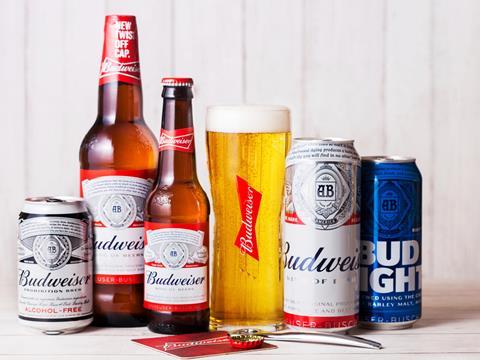 Budweiser has overtaken Foster's to become Britain's second-biggest beer brand.

Supermarket value sales of the AB InBev brand (not including its spin-off Bud Light or its alcohol-free Prohibition Brew) have surged by £17.5m to £381.7m.

Including Bud Light, which has pulled in £30.5m in extra sales this year, and Prohibition, this figure rises to an eye-watering £418.4m - a 13.3% rise year on year. In fact, Bud Light was the best-performing lager SKU in the supermarkets this year [Nielsen 52 w/e 21 April 2018].

Foster's, meanwhile, has had 11% of its value wiped away, falling to £354.2m. Its standard lager has lost £31.8m (8.4%) while its Gold variant has lost £11.4m, more than two thirds (68.3%) of its value.

Budweiser's growth had been "phenomenal", said the brand's UK marketing manager Rowan Chidgey. "Its performance has been driven by its affiliation to key sporting events and cultural moments this year."
Toby Lancaster, category and shopper marketing director at Foster's owner Heineken UK, said Heineken expected a "much stronger" performance from the brand over the coming year, with plans to introduce new on-pack promotions offering shoppers the chance to win prizes.

Foster's would also be "partnering with a leading music app to build further interaction with consumers", he added.

Foster's was one of around 30 Heineken brands to suffer mass delists in Tesco last year amid rumours of a pricing dispute.

In April Tesco added a slew of Heineken's products back to its shelves but the number of Foster's SKUs available in the super is only three.

This switch in ranking means AB InBev now owns Britain's two biggest supermarket beer brands - Stella Artois remained on top with £523.8m in value sales.