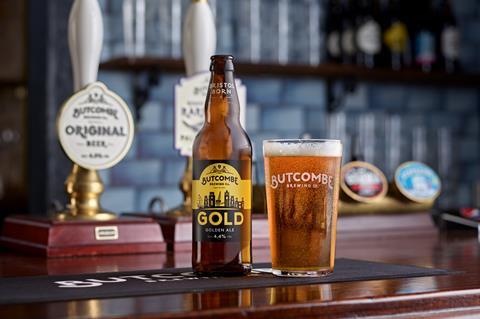 Butcombe Brewing Co has given its portfolio a makeover in a bid to appeal to younger drinkers.
The Bristol business has revamped the look of its Original, Gold, Rare Breed and Goram beers, Bohemia and Underfall lagers and Ashton Press cider. They had been given a "heightened style element" that gave shoppers "the information they need in an impactful and easy- to-read way" said Butcombe.
Other design touches include the addition of medals to mark awards won, and a barcode shaped like a pint of beer.
The 42-year-old brewer had "evolved the Butcombe look to appeal to a younger audience without alienating our existing fans, whilst focusing more on our heartland and leveraging our connection with Bristol" said Bruce Rowland, head of marketing at Butcombe owner Liberation Group. "Each product in the portfolio has its own new distinct look and feel."
The makeover was carried out in partnership with branding agency The Collaborators. Its creative director, Mary Lewis, said: "The first job was to bring more meaning to the Butcombe Brewery identity. The city of Bristol has been central to the brand's history and success since the very first brew was born, and we wanted to bring some acknowledgement of that loyalty to the brand."
The new look included "a sense of the city, without being too overt or inward looking" she added. "Those that know the city will see the link, those that don't may simply see it as a well-crafted mark of quality."