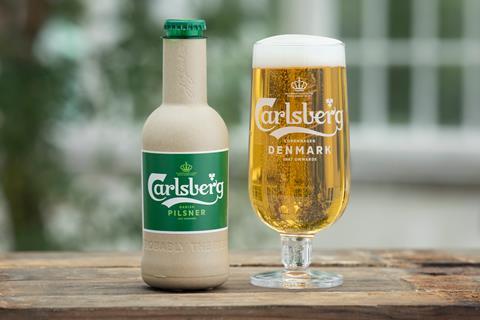 Carlsberg has unveiled two new prototype paper beer bottles.
The Danish brewing giant - which has transformed its core lager brand over the last year with a complete reimagining including a new recipe - has created the bottles using sustainably-sourced wood fibre.
They are fully recyclable and have an inner barrier that seals in the beer: one uses a thin, recycled PET polymer film barrier, and the other a 100% bio-based PEF polymer film barrier.
The brewer said it eventually wanted to create a bottle that didn't use polymers. These prototypes will be used to test barrier technology.
The prototypes marked "an important step towards realising our ultimate ambition of bringing this breakthrough to market", said Carlsberg VP of group development Myriam Shingleton.
"Innovation takes time and we will continue to collaborate with leading experts in order to overcome remaining technical challenges, just as we did with our plastic-reducing snap pack."
The news also marks the founding of a new company - called Paboco, or The Paper Bottle Company - which will be run as a joint venture between Carlsberg, packaging company BillerudKorsnäs, and bottle manufacturer Alpla, with an eye to advancing sustainable packaging across the global food and drink industry.
Alongside Carlsberg, big names such as The Coca-Cola Company, The Absolut Company (owned by Pernod Ricard) and L'Oréal have signed up to be part of the "community" of businesses, which would be "united by a desire to create sustainable innovations", said Singleton.
Carlsberg unveiled its first prototype paper bottle back in 2016, having announced its plan to create the world's first fully biodegradable wood fibre bottle in 2015.
It is one of several major pushes towards greater sustainability from Carlsberg over the past few years - others have included the roll out of snap packs across the Carlsberg brand, which hold cans together with biodegradable glue, eliminating plastic rings from the brand's packaging.
The business is also targeting zero carbon emissions from its breweries and a 30% reduction in its full value chain carbon footprint by 2030.