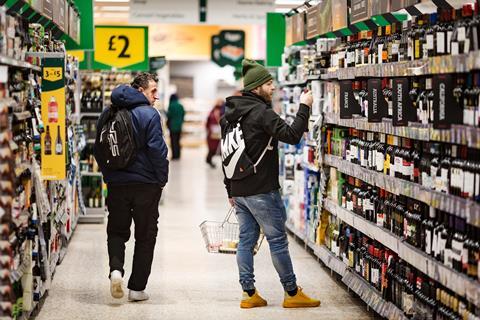 Wine saw the biggest increase in sales, with shoppers spending £151.4m on the category

Booze sales continue to rise steadily as other panic-bought categories such as pasta level out
Brits splashed out an extra £160m on supermarket booze in the first three weeks of March as the coronavirus crisis swept shoppers into a frenzy, data reveals.
Off-trade alcohol sales hit £356.5m over the week to 21 March, rising from £252.5m the prior week, and £231.5m in the first week of the month [IRI].
In total, BWS spend over the three-week period reached £840.5m, compared to £676.2m during the same period last year.
For context, sales of booze hit £320m last Easter, and £531m during Christmas week 2019. The best week for booze sales last summer saw it hit £286m.
"Everything in grocery has gone bonkers", said a senior drinks industry source. "We are having massive spikes in our EPoS data, even on things we really don't usually sell that much of."
Yet it was difficult to gain a clear picture as a supplier, they added. "The on-trade has collapsed so, while grocery is going like the clappers, we've also got stock being returned. I have no idea whether we're going to be up or down."
Over the week to 21 March, wine saw the biggest increase in sales: shoppers spent a whopping £151.4m on the category – a rise of 55.5% (£53.9m) compared with the same week in 2019.
Meanwhile, spirits sales were up 68.1% (£41m) to £101.3m, while beer sales rose 58.5% (£30m) to £81.5m. Cider and perry sales grew 52.9% (£5.0m) to £14.4m, while fortified wines added £984.5k, hitting £4m.
Another source said: "Our supply team are having to work f***ing hard but they are making it work – shelves are being stripped and all the promo activity is getting pulled."
And the data shows while two other categories that were subject to much panic buying – household paper and cleaning products, and pasta, rice and noodles – have begun to level out, booze sales have continued to rise steadily.
Sales of the former were down week on week from £88.9m to £72.4m, while the latter grew, but to a much smaller degree than BWS, rising from £41.1m to £47.4m.