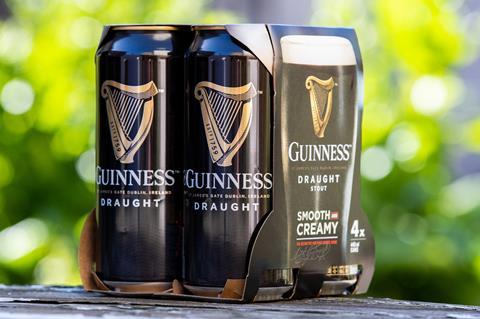 Diageo is removing plastic from all its beer packaging, in a move it claims will reduce its plastic waste by 400 tonnes per year.
The drinks giant is ploughing £16m into removing shrink wrap and plastic ring carriers from its trio of beers: Guinness, Smithwick's and Harp. New cardboard packs will roll out in Ireland from August 2019 and other markets from 2020.
Diageo already had "one of the most sustainable breweries in the world at St James's Gate and we are now leading the way in sustainable packaging", said Diageo global head of beer Mark Sandys.
Diageo has said it wants to ensure 100% of plastics used in its products will be widely recyclable, reusable or compostable by 2025, and achieve 40% average recycled content in its plastic bottles by 2025 - and 100% by 2030.
It has already committed to phasing out plastic straws from its operations and last year phased out single-use plastic bottles and catering items from its offices and manufacturing sites.
It isn't the only drinks company cracking down on plastic. Carlsberg last year unveiled a new eco-friendly 'snap-pack' for its beers, with which the beers are held together by a glue rather than plastic. It has also changed the ink used in its beer packaging to improve recyclability.
Diageo's biggest rival in spirits, Pernod Ricard, earlier this month unveiled a slew of new sustainability goals.