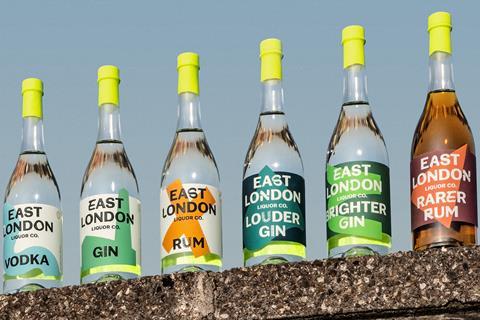 East London Liquor Co has unveiled a stripped-back rebrand as it looks to rip away the "facade of 'craft' distillers".
The Bow-based distillery has unveiled a new "clean and daring" look for its spirits range which it said "refocuses consumers' attention to the liquid inside the bottle", it said, and launched a new 40% abv East London Rum (rsp: £23/70cl).
The white rum is made with an 80:20 blend of medium to high ester rums and has rolled into Tesco.
The distiller has also mounted a campaign to mark the rebrand, highlighting its revamped East London Gin.
Shoppers were paying "over the odds" for a bottle of quality gin, said the brand's founder Alex Wolpert. GIn had ""seen us though plagues, social upheaval and community celebrations without drilling a gaping hole in our wallets… until recently," he added.
"If you're paying £35 or more for a bottle, you're having the wool pulled over your eyes."