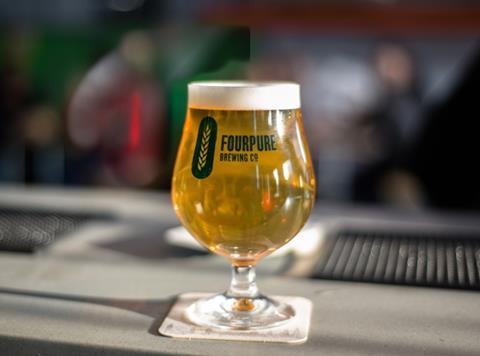 London craft brewery Fourpure is poised to embark on a series of global collaborations, which will see it create beers with six breweries from each continent.
The move, which kicks off this month, will see Fourpure tie up with the likes of Devil's Peak in South Africa, Kyoto Brewing in Japan, Two Birds in Australia and Sunset Brewery in Brazil. It was designed to "showcase how provenance, innovation and storytelling can come together to illuminate and inform consumers about beer today", said the brewer.
Each beer created will be released in limited edition 500ml cans and 30-litre kegs, as well as a small run of mixed six-packs and individual cans.
Brewing had "significantly" evolved across the globe over past decades, said Fourpure co-founder Daniel Lowe. "It's an industry that transcends language or geography, that brings people together professionally and socially, and increasingly it's an industry that loves to share, teach and collaborate.
"The Continental Collaboration series of beers will explore the unique stories born from history, heritage and a sense of adventure that has led to innovation in brewing, spanning every major continent on Earth."
The news comes as Fourpure has made significant strides into the supermarkets over the past year. Last month, it rolled its Shape Shifter IPA and Easy Peeler Citrus IPA into Waitrose when the retailer added some 100 new craft beers.