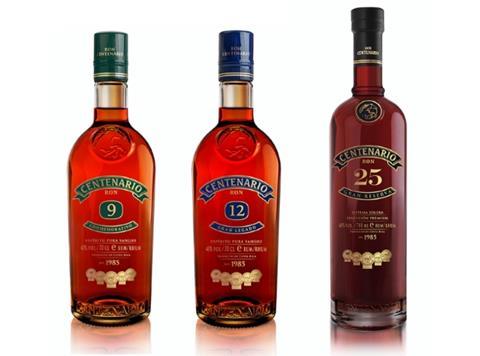 Halewood Wines & Spirits has won UK distribution rights for upmarket rum brand Centenario.
The Liverpool-based distributor said it would "use its extensive national footprint" to grow the Costa Rican brand, which will be available in seven, nine and 12-year-old expressions, alongside 25 and 30-year-old Solera variants.
It follows the acquisition of Cornish craft rum brand Dead Man's Fingers earlier this year. Halewood wanted to be "the UK's number one specialist in innovative and artisanal rums, just as we are beginning to showcase in the gin category," said group CEO Stewart Hainsworth.
Halewood also announced today (3 May) it had parted ways with Chinese beer brand Tsingtao, which has signed a new distribution deal with Matthew Clark & Bibendum owner C&C Group, marking the end of a 10-year partnership between the businesses.
Ditching Tsingtao was emblematic of Halewood's "renewed vision to become an international specialist in artisanal spirits and craft beers," said Hainsworth. "To that effect, it will focus its UK agency business on premium artisanal spirits, and for this reason Tsingtao will no longer be distributed by Halewood."