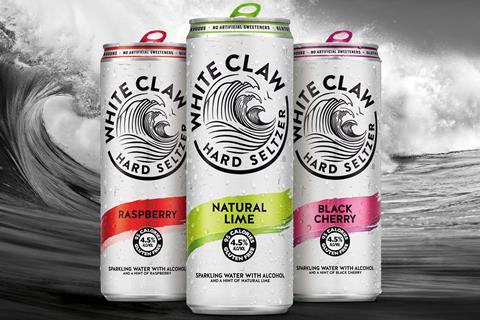 Brits are beginning to develop a taste for hard seltzer – but the trendy US drink is yet to hit the big time in the UK.
Sales of boozy fizzy water brands have surged 39% to £16.9m, in stark contrast to the declines experienced by much of the booze sector this year, exclusive data reveals [Nielsen 52 w/e 18 June 2022].
US import White Claw, which launched on these shores in 2020, dominates the category, accounting for 42.4% of the overall market with value sales up 69% to £7.2m in the 52 weeks to 18 June, the data shows.
White Claw had achieved this by playing up its "better-for-you" credentials, said UK & Ireland MD Flor Prendergast. "The better-for-you drinking experience was trailblazed by White Claw targeting core gen Z and millennial audiences," he said.
Topo Chico, owned by CCEP, came in second, with an 11.4% market share. Its sales were up 160% to £1.9m over the same period. Both White Claw and CCEP are targeting their marketing at festivals.
Other big gains were made by Bud Light Seltzer, whose sales were up 189% to £920k, while Corona Tropical pulled in £674k in its first two months on the market. Hard seltzer brands are now pinning their hopes on younger shoppers to grow further.
Some brands have already begun to decline. Kopparberg, for instance, saw its sales drop by 64% to £856.7k. It was the second-largest player in the category last year – with 19.4% market share – but now accounts for just 5.1% of the market.
The independent Bodega Bay, meanwhile, has been overtaken by Three Fold, Pure Pirana and Corona, despite growing its value sales by 32%, and disappeared from Morrisons – its sole mults listing. Bodega Bay founder and CEO Charlie Markland said the brand would switch its focus to the on-trade and premium independent retail.
Admittedly this is all from a small base: at £16.9m, the entire category treated as one entity would not be big enough to make it into the ranks of the top 150 booze brands in the UK. Scrumpy Jack, the 150th biggest brand, for instance, was worth £18.1m in sales over the year to 30 April 2022 [NielsenIQ].
Meanwhile "innovation has slowed with few entrants so far in 2022 and the category is under pressure in the RTD space", said NielsenIQ BWS client team leader Rob Hallworth.
"Covid brought about a surge in ready to drink cocktails and as such Hard Seltzers are competing for space in store with a category that is gaining momentum."
In the on-trade, meanwhile, pubs and bars have been steadily lowering price points for hard seltzer over past months. From February to May, the average price of hard seltzer fell almost a third (32.1%) across the top 20 biggest pub and bar operators in the UK, according to Lumina Intelligence's Menu Tracker.
Furthermore, analysts at OC&C Strategy Consultants have suggested US seltzer brands hoping to recreate their success in the UK market could face some unanticipated challenges.
The success of hard seltzers in the US was partly based on "the lack of confidence of the American consumer in tap water", argued OC&C partner Marek Zdziech.
Hard seltzers had "a strong association with sparkling water", which had connotations of being low in calories and healthy, he said. Creating a category which was essentially "another engineered, healthy packaged water with attractive enhancement… made absolute marketing sense in the US".
However, in Europe, where tap water was "highly trusted", "alcohol brands and categories must draw credentials from alcohol if they are to be credible".