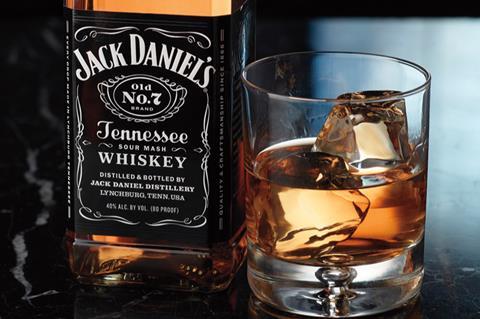 Jack Daniel's has partnered with Tesco for a competition offering a slew of live music prizes.
Promotional neck tags have rolled out across 500,000 bottles of the whiskey (including its Honey, Fire and Rye variants), each containing a wristband with a code inside it. Winning codes unlock a range of prizes, including an all-inclusive trip for two to Tennessee, as well as tickets to a 'Jack Daniel's Presents' gig in the summer and branded t-shirts and merchandise.
It is the first in a series of moves from the brand designed to highlight its links with live music, with a campaign spanning online, 'pre-store' and in-store activity.
The competition "draws on the consumer trend and desire for experiences over physical posessions", said JD marketing director Jennifer Powell. "The Tesco in-store promotion is the first in a series of activities which will give people the opportunity to tap into music experiences this summer, with friends and fine whiskey, creating a more positive end-to-end experience".
It "not only spearheads the experiential campaign, but will support Jack Daniel's grassroots music projects and the Music Venue Trust, which we've been a longstanding supporter of since the charity launched its grassroots investor scheme in 2015", she added.