WKD is 25 years young. It's stayed relevant by moving with the times, and joining forces with Love Island, says SHS Drinks MD Marcus Freer
WKD is officially older than its drinkers. The alcopop is celebrating its 25th anniversary – but its target audience is 18 to 24-year-olds.
It's an irony not lost on Marcus Freer, MD of owner SHS Drinks, who says people are often unaware of the brand's longevity. "No one really can believe it," he says. "WKD has been written off so many times but it keeps coming back."
The scepticism is perhaps understandable. In many ways, WKD feels like a product of a bygone era. At the time of its launch in the 1990s, alcopops were booming and lad culture was at its height. Since then, many of the big alcopop brands have fallen by the wayside. Laddishness, meanwhile, has given way to a new generation of more moderate drinkers.
Yet WKD proved the fastest-growing RTD in The Grocer's Top Products Survey 2020. It shot up 37.9% to £42.7m – equating to an £11.7m gain [Nielsen 52 w/e 5 September 2020] and is the "jewel in the crown" of the SHS Drinks portfolio. So how has it succeeded where rivals have struggled?
"I suppose if you think about our core audience, we're having to recruit all the time and stay relevant," Freer suggests. "Our marketing team over the years has known our consumers inside out. We've stayed relevant by listening and keeping up with the times and recognising what 18 to 24-year-olds do, which does change."
This is part of why Freer wants to talk now. In a bid to engage with the latest generation of would-be drinkers, WKD has just signed a multimillion-pound deal to become the official alcohol sponsor of Love Island. As the series gears up for a long-awaited comeback this summer, Freer is feeling positive about the prospects.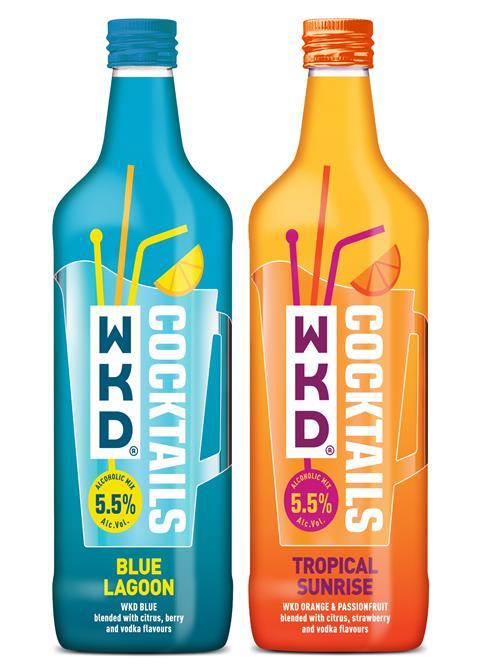 To quote a Love Island phrase, it's a match that certainly 'looks good on paper'. "It's the most-watched programme by 18 to 35-year-olds, so it's just absolutely perfect for us to link up with them," he says. "What it allows us to do is go back on TV again, which we haven't done for a number of years."
Alongside these TV ads, which will play on the Love Island theme and lingo, there will be two limited-edition bottles and on-pack promotions offering the chance to win prizes like tickets to the final.
"I knew I'd got it right when we told our 18-year-old daughter a couple of weeks ago and she was so excited," Freer recalls. "She just thought it was great."
His daughter in many ways embodies the Love Island audience, which is perceived as primarily female. But Freer is adamant this doesn't represent a move away from the laddish marketing that has characterised its "winning formula".
Far from being gender-specific, he believes there is universal appeal. "Basically that show averaged 5.9 million people last time," he says. "The stats don't lie."
It's not the first time WKD has formed savvy partnerships. Back in 2014, for example, it sponsored Towie, which was "a really important programme" for its shoppers.
Flavour focus
But the growth of the past two years is a more down-to-earth focus on NPD and specifically flavours. In 2019, WKD tapped the pink gin trend with the launch of its Pink variant, which "really resonated with our consumer base". That appetite for trend-led NPD has persisted since. Last year, it rolled out a Dark Fruit flavour, followed by a Raspberry Lemonade. A new 5.5% abv range of RTD cocktails is set to hit the shelves in June.
It's part of a concerted effort to keep the wheels of innovation turning despite the pressures of the pandemic. "We went into it with quite an aggressive streak of NPD, which was really hard in a Covid environment but we just felt we had to go for it," Freer says.
"Dark Fruit was already planned and a real success, and just talking to consumers on our social feeds, we wanted to do more. So we launched Raspberry Lemonade," he says.
With flavours ranging from a Vegas limited edition to an Iron Brew bottle, it seems little is off limits. Except, perhaps, a low or no variant. For Freer, that risks taking away from the brand ethos. "It's about high energy, fun, bright personality – and we'll stick to that theme."
That said, he's conscious of the growing moderation trend – a far cry from the laddish partying of the 1990s. Freer has "absolutely" witnessed attitudes changing towards alcohol consumption. Fortunately SHS has two soft drinks brands – Bottlegreen and Shloer – and feels they are better placed to capitalise on the adult soft drinks boom.
"We went into the pandemic with quite an aggressive streak of NPD, which was really hard in a Covid environment but we just felt we had to go for it"
"With Shloer, people want to have it as a treat. If they don't want a glass of wine, it's being able to pour something into a wine glass," he says.
Those credentials should make it bang on trend. Yet, in contrast to WKD, the sparkling grape brand took a hammering last year. Sales fell 15.8% to £19.7m [Nielsen]. Stablemate Bottlegreen didn't fare any better, slumping 20.1% to dip below the £6m mark.
Freer admits "the soft drinks side has been challenged" during the pandemic. Shloer typically does well at big seasonal occasions. So the sudden scaling back of Christmas 2020 hit it hard.
"Shloer relies on those big Christmas parties or even Christmas Day, when people want a credible non-alcoholic alternative," he explains. "So our volume did take a hit with those lack of social and family gatherings."
As Covid restrictions ease, things are looking up. Freer cites the example of the Easter just gone, when EPoS sales of Shloer rose 90% year on year. Now SHS is looking ahead. "We're gearing up for all the occasions we do well at like barbecues and parties," Freer says, pointing to the launch of a new Pineapple & Lime flavour and the possibility of more marketing activity.
In the case of Bottlegreen, it does "very well with the lunchtime café trade", which bodes well as hospitality gets ready to open fully next month. "That can't come quickly enough for us," Freer says.
The brand is also set to get a boost in the form of a partnership with Great British Bake Off winner Peter Sawkins, who wowed judges with an elderflower cake made using its cordial. Freer believes he will be a "fantastic asset" – and cites him as an example of SHS's speed of response to opportunities.
"The beauty of our business is we can react quite quickly," he says. "Going back to Love Island, you can imagine what was going on at ITV – they didn't know if the series was going to happen. When we heard it was available, we went straight to the group CEO and shareholders and luckily they can make quick decisions if it's right.
"There aren't too many decision-makers here, we're still owned by two families and that's a real benefit," Freer stresses.
It's a benefit he hopes will help WKD achieve yet more growth this year – especially considering the multimillion-pound nature of the Love Island deal. "I'll be in a lot of bother if it doesn't!" he admits. Or as they like to say on Love Island: he might just be 'pied off'.


Emma Weinbren is managing editor at The Grocer. As second-in-command to the editor, Emma is responsible for the day-to-day running of The Grocer in print and leads The Grocer's features desk.

Emma won the PPA New Talent Award for New Section Editor of the Year in 2016. Prior to joining The Grocer in 2016, Emma was deputy and features editor at Chemist+Druggist, a weekly magazine and website for UK pharmacists.

Follow Emma on Twitter: @EmmaWeinbren