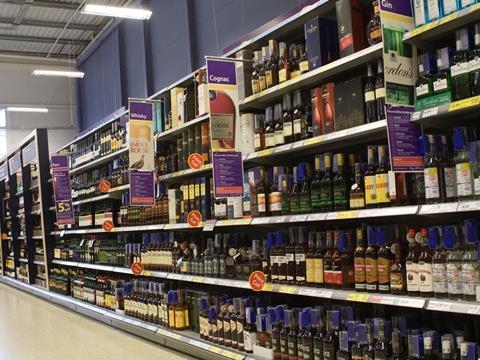 Tesco was the only non-discount retailer to grow its share of the booze market last year, while Waitrose's share took a major hammering, exclusive figures reveal.
Tesco's share of total alcohol grew from 27.2% to 28% for the 52 weeks ending 30 December 2018 - increasing its stake in every BWS category except cider [Kantar Worldpanel].
But the other mults weren't so lucky - even with the World Cup and the hot summer. Morrisons' share of total booze was static at 11.4%, while Sainsbury's and Asda's fell from 14.6% and 14.5% to 14.5% and 14.4% respectively. The Co-op and M&S suffered similar dips.
"Tesco was the first to do major range re-engineering and the others have followed suit but they are still behind it," said a senior industry source. "They have had first mover advantage and they've been great at going hard on new products."
Tesco's initial exclusivity deal on the launch of Gordon's Pink (arguably the most successful BWS launch of the decade, with over £87m in off-trade sales alone since its late 2017 launch) was a pertinent example, the source added.
Waitrose, meanwhile, was the biggest loser. Its share of booze sales fell from 5.4% to 4.7% - conceding the title of Britain's seventh-largest booze retailer to Lidl, which also overtook Waitrose to become Britain's seventh-biggest grocer earlier this year.
Lidl buying director Paul Gibson said initiatives such as its House of Hortus pop-up, premium Wine Tour range and adding new craft beers had buoyed the discounter's performance. "Customers have responded to our creativity and ambition and we're proud to be gaining pace in a competetive market."
Waitrose did worst in spirits, where its share fell from 5.2% to 3.9%.
The industry source said: "They have always had a fantastic range of whiskies and were ahead of the curve with craft gin, but they are a long way behind on pink gin and all the flavoured, colourful stuff - and that's what is driving the growth in spirits.
"They have been quite principled about all these colourful bottles - Waitrose doesn't think that's what consumers really want, but if you look at even just Christmas sales, it is all about flavours."
And despite its historically strong position in wine, it was overtaken by Aldi in the category, its share falling from 7.1% to 6.3%, while Aldi's rose from 6.6% to 7.1%.
However, a wine industry source suggested Waitrose was "focusing on more premium and exclusive wines and not falling into the promotional volume trap. They're going for higher margins".
They added: "The sorts of wines they're looking for are more unique. While Tesco has done the consolidation play beautifully, if you look at its range it is all Accolade, Concha y Toro, Australian Vintage… they probably buy 90% of their wine from five or six suppliers. Waitrose is looking for more eclectic supply."
A spokeswoman for Waitrose satressed its booze sales had grown over the festive period and that the super had "made a decision to focus on profitable sales, reducing one day promotional offers".
This had "particularly impacted on the spirits category and is something we planned for and anticipated. We have a wide selection of coloured gins within the range and Warner Edwards Rhubarb, Gordon's Sevilla, Gordon's Pink & Heston Hidden Orange Christmas Pudding Gin were among our biggest successes this Xmas".