After years of toasting unprecedented success, spirits brand owners are suffering from a post-pandemic hangover.
Diageo – the company behind household brands including Smirnoff, Captain Morgan and Johnnie Walker – is under the cosh. Its shares fell as much as 15%, after it issued a profit warning triggered by a slowdown in Latin America and the Caribbean.
Addressing the projected slump, the London listed Diageo said that "macroeconomic pressures in the region are resulting in lower consumption and consumer downtrading". It expects sales in the region – which makes up 11% of total sales – to fall by a fifth in the first half of its financial year.
It was something of a rude awakening for Diageo, described by Hargreaves Lansdown analyst Sophie Lund-Yates as "a favoured steady-Eddie" owing to its "seemingly impenetrable brand power and dividend paying ability".
Despite Latin America and the Caribbean making up "a relatively small portion" of Diageo's revenues, "there will now be concerns that the change in appetites could translate to other, larger markets", according to Lund-Yates.
And Diageo is far from the only spirits brand owner in a spot of bother. In recent months, rivals including Pernod Ricard and LVMH have reported declining sales. Rémy Cointreau shares dropped to a three-year low last month, after predicting that sales would shrink by a fifth on the back of falling demand for cognac.
Dispirited: a timeline of bad news
November 2023: Diageo warns growth in operating profits will slow in the first six months of its financial year, due to a slump in premium scotch whisky sales in Latin America and the Caribbean.
October 2023: Rémy Cointreau predicts its sales will contract by a fifth this year as US consumers shun cognac. "In the US, market conditions have deteriorated on the back of a fiercely promotional environment," it said.
October 2023: Pernod Ricard reports a 2% decline in sales in its first quarter of FY24, led by 8% drops in the key markets of the US and China. The Martell brand owner had previously called out a "challenging macroeconomic environment" in China and high US comparables.
October 2023: Moët Hennessy, the wine and spirits arm of luxury conglomerate LVMH, reports a 14% dip in sales of its spirits. The group said the decline was a result of "normalisation of demand" following the pandemic, as well as tough competition in US cognac.
It's quite the comedown for companies that were – as recently as a year ago – boasting record demand for their drinks. Pernod Ricard's sales broke the €10bn mark for the first time in its FY22, while this January Diageo proclaimed "strong global premiumisation trends" continued to bolster its top and bottom line.
So what's to blame for the recent slowdown and gloomy outlook? Should alarm bells be ringing in the upper echelons of companies like Diageo? And to what extent are these global headaches reflected in the UK?
Pandemic habits breaking
Global spirits powerhouses enjoyed something of a boon during the pandemic. Consumers cooped up and with little to spend their wages on turned to premium spirits to make their favourite cocktails at home. When pubs and bars reopened, consumers stuck with the habits they had formed and the brands they had grown to love.
Those habits are now beginning to break, according to Laurence Whyatt, Barclays' head of European beverages research. He points to persistently high inflation in western economies, which is causing consumers to reign in posh booze purchases.
"Consumers are certainly feeling the pinch from a worsening environment, leading to downtrading pretty much across the board," he says. "People are finding that you don't necessarily need to spend quite so much [on spirits] especially if you're putting it into a cocktail.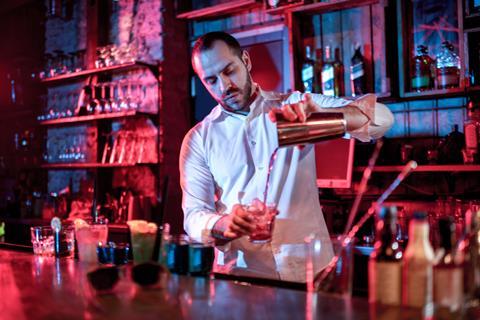 In the UK and Europe, the phenomenon is less pronounced than in the US, and drinkers are still keen to head to the pub after several years of pandemic-interrupted socialising. But spirits consumption in both the on and off-trade has still taken a hit.
"You're getting trade-down within spirits but also out of spirits and into beer," Whyatt explains. "The price of a pint is cheaper than a cocktail."
And with consumers concerned over spiralling bills, sky-high interest rates plus an increasingly soft labour market, discretionary spend on spirits is likely to continue to suffer.
Take-home alcohol sales in the UK reflect this: they're down 2.8% in value and 5.2% in volume [Kantar 52 we 3 September 2023]. Spirits are the main culprit, accounting for 72% of the decline.
The conditions mirror those seen during the 2007-08 financial crisis and subsequent economic downturn, says Whyatt.
"When economic conditions are weak and people are losing their jobs and worried about their jobs, then they will downgrade," he says. "In 2007 we saw two years of downtrading in spirits."
Headwinds in China
Two years of downtrading would certainly be unwelcome for drinks giants that have ploughed money into buying or building premium spirits brands in recent years.
A potentially bigger threat on the horizon, however, is China, a market that accounts for a fifth of worldwide alcohol volume consumption and more than a quarter of value sales, according to IWSR figures from 2021.
China's post-Covid recovery has been sluggish, and last month the country's economy slipped back into deflation on account of low consumer confidence and a growing property crisis.
For spirits brand owners like Pernod Ricard and Rémy Cointreau – which draw a hefty chunk of their profits from China – this presents an unwelcome headache.
"Frankly, I don't think it looks great," Adrien Rabier, equity research analyst at Alliance Bernstein, says of the short-term outlook in China. "Everybody was expecting a very strong recovery, which hasn't happened."
And a ticking time-bomb of shifting demographics in China could derail premium spirits growth further.
China's population is declining faster than previously thought. Barclays forecasts it will fall by 60 million over the next decade. Crucially, the number of 25 to 44-year-olds – a key driver of economic growth and alcohol consumption – is set to fall by 22% by 2035.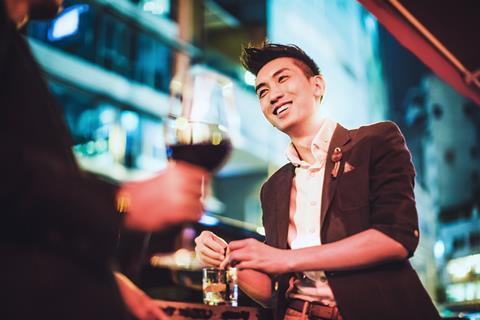 Things are going to get worse before they get better. Barclay's estimates that in 2011 there were eight working age people per retiree in China. In 2021, this had fallen to just under five, and by 2035 the ratio is expected to be just two and a half.
So structural are the issues facing China, Whyatt believes spirits companies could even start to diversify away from the country or divest their businesses there entirely.
"It's been well known that we're running out of children in China," he says. "But it's now quite clear we're running out of adults as well. And there's not much you can do about that."
Reasons to be cheerful
Rabier, however, is less pessimistic. "Western-style spirits are an incredibly small share of spirits in China, so there's a lot of room to grow. We're still very positive about what could happen in the long-term, especially in scotch and cognac."
Western spirits giants, too, remain bullish about the global outlook. At Diageo's capital markets day on 15 November, CEO Debra Crew was at pains to describe the slowdown in Latin America as "an isolated issue", adding the group's other regions remained "on their expected trajectories".
Addressing the possibility of consumer downtrading in other markets, Crew pointed to Diageo's "range of price points" across its portfolio, something she said enabled its spirits brands to remain "consistently resilient regardless of the economic environment and consumer behaviour".
"These are short-term challenges, and we run this business for the long term," she added.
It's a view shared by Rabobank researcher Bourcard Nesin, who notes downturns in consumer demand are unpredictable and – to some extent – inevitable.
"Are Diageo and Pernod Ricard somehow fundamentally at risk because of a couple of percentage points drop in consumer demand? No, you can't predict or prevent that. It's just a cyclical problem."
Instead, Bourcard points to the importance of these companies building long-term resilience to structural issues such as geopolitical upheaval, climate change and shifting demographics.
"If you can't predict the future, like economics, invest in knowable, long-term trends," he says. "These structural challenges are the ones that really need to be the focus of management at spirits and other beverage companies that want to be successful."
So while Diageo and other spirits majors will undoubtedly be anxious about recent events, there is enough to suggest that – for now at least – the hangover need not be existential.