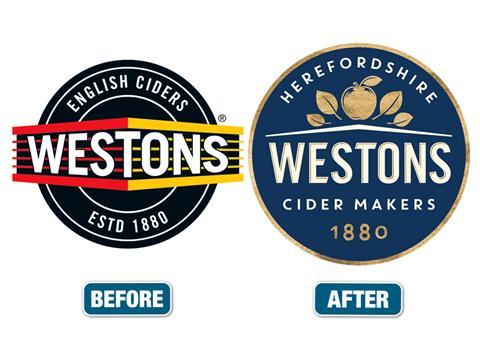 Westons is to unveil a new corporate identity later this month following a multimillion-pound rebranding to support an ambitious five-year plan to grow the business by 40% and bolster its premium positioning.
The new logo will roll out from late October across all consumer and trade touchpoints.
Westons, which makes Stowford Press, Wyld Wood, Henry Westons, Old Rosie, Rosie's Pig, Caple Rd and Mortimers Orchard, is targeting 40% value and volume growth by 2023 to take turnover past £85m from current levels of £60m.
It also plans to expand its international business to represent 10% of the group, compared with about 7% today. Westons currently exports to more than 40 countries worldwide, with core markets including Germany, Scandinavia, the Baltics, Canada and Australia.
New generation brands such as Caple Road and Rosie's Pig will make up a quarter of the business over the life of the plan, with NPD at the heart of the growth ambitions.
Since 2010 - when the current corporate identity was unveiled - the business has invested £15m into infrastructure and capacity improvements.
Commercial director Geoff Bradman said the capex spend gave the group the capacity to deal with increasing volume demands.
"To reflect our investment to date and support our growth ambitions, it was clear that we needed to update our corporate branding, to premiumise, energise and modernise it and bring it in line with our brand portfolio," he added.
The new logo, designed by agency Brand on Shelf, is the result of a year-long process, with input from consumer focus groups and trade research.
Corporate brand manager Gemma Evans said: "Our research demonstrated that the Herefordshire region needed to be referenced on the logo as it's renowned as being the heartland of cidermaking.
"It was also clear that Westons' heritage, longevity and expertise needed to be alluded to whilst the design also needed to be contemporary to remain appealing. The established date of 1880 was also very important to carry on the logo."
Westons is run by the fourth generation of the Weston family at the cider mill in Much Marcle, with three family members on the board. Bradman added that the business would remain independent and "would never sell to a bigger company".
"Consolidation in the cider market is unparalleled at the moment, which means with our goal of remaining independent that the products need to be the best in the market and how we interact with all our stakeholders needs to be best in class if we are to continually add value."
Revenues at Westons almost doubled from £33m to £59m in the year ended 31 March 2016, since its last corporate rebrand in 2010.