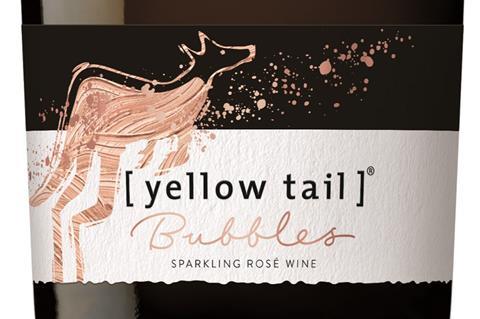 Smash hit wine brand Yellow Tail is moving into sparkling wine.
The Casella Family Brands wine has created Yellow Tail Bubbles Rosé, an 11.5% fizz packed in bottles which weigh 160g less than the typical wine bottle to crack down on the brand's carbon footprint (rsp: £10/750ml).
The drink itself is billed as "a delightfully fresh, fruity and soft sparkling wine, with great palate length" and "lifted aromas of fresh strawberries" meshed with "flavours of sweet cherries and tropical fruits".
It has rolled into Sainsbury's.
It's not the only NPD from Casella to hit shelves this month. The supplier has also unveiled a duo of Magic Box 2018 vintage wines (14%), Spectacular Shiraz and Amazing Cabernet, which, having been recently trialled in Tesco in Northern Ireland, are now rolling out across the UK (rsp: £9/750ml).
Lastly, Casella has launched a new premium Australian shiraz by Peter Lehmann Wines (14.5%), which it said offered "lashings of dark plum with an underlay of dusted chocolate" and a palate "brimming with rich fruit flavours of plum and rick dark chocolate restrained by soft fine grained tannins". It has also launched into Tesco (rsp: £15/750ml).
Casella GM Simon Lawson said the business was "proud to introduce an exciting range of new wine brands and varietals to the UK market at a time when consumers are enjoying wine at home more frequently".
It "demonstrates our commitment to bringing new product development into the market through retailers with whom we have established proactive relationships and with whom we share the same objectives; to deliver a vibrant and profitable wine category", he added.