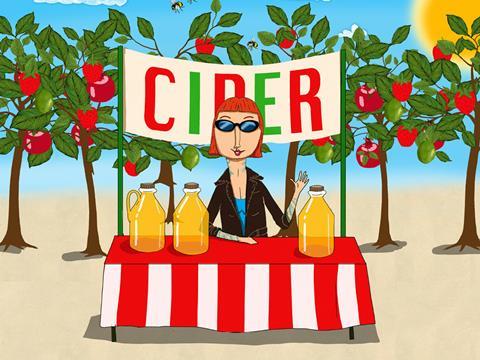 Remember when Club 18-30 holidays were cool? For the nineties lad, nothing screamed 'mad fer it' more than hitting Faliraki with an overbearing club rep to rack up some painful sunburn (and memories). Today, cool has an altogether different meaning. For the social media generation, it turns out larging it in Magaluf doesn't scream 'photo op'. And so Club 18-30 met its official demise this year, pointing to the rise in millennials "wanting to have fancy and cool pictures on Instagram".
What does all this have to do with cider? Well, white cider has many parallels with said Club 18-30. At one point, it was the bevvy of choice for cash-strapped young people looking for a fun night out with their mates. Except it's not cool anymore (or Instagrammable). And so white cider is in decline, suffering a 2.8% slump in both value and volume over the past year, according to the Westons 2018 Cider Report. Even residing sector champion Frosty Jack's saw sales slip 3.6% on volumes down 6.3% [Nielsen w/e 21 April 2018].
Watch: Young people don't think white cider is cool
By contrast, its more photogenic rival, fruity cider, is booming. The Westons 2018 Cider Report found it now represents a third of all cider sales. Impressive stuff, considering that figure was as low as 1% in 2008. So what's getting consumers all excited about fruity cider as opposed to the white stuff? Is there any opportunity for this market to grow further? And can white cider learn any lessons from its fruity friend's success?
Younger people in particular are lapping up fruity cider, according to our exclusive poll of over 600 cider drinkers by Harris Interactive. Nearly half of the total sample (48%) consume it in either bottled or canned form. Among 18 to 24-year-olds, this figure rises to 60%. By contrast, only 16% of this demographic drink bottled white and 31% drink canned white. It's a discouraging finding among what was white cider's core market.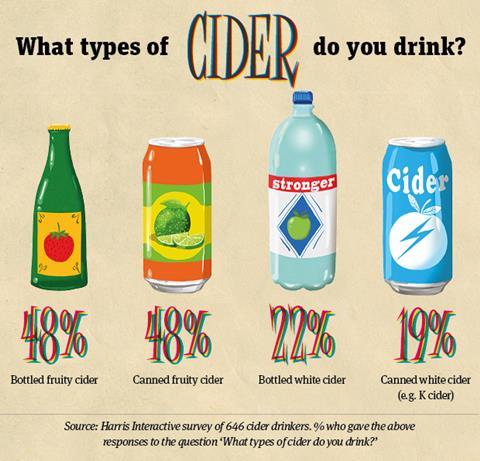 All this is the result of one big image problem. Consumer research from Bestway earlier this year concluded 93% of shoppers had a negative perception of the term 'white cider', prompting the wholesaler to rename its White Ace to simply Ace in April. This negative perception was equally evident in the Harris Interactive research. Only a fifth thought it was cool (this figure wasn't much higher among trend-led 18 to 24-year-olds) and 32% thought it had a great taste. Compare that with the positive perceptions around fruity cider (see below), and you can see why sales are going in that direction.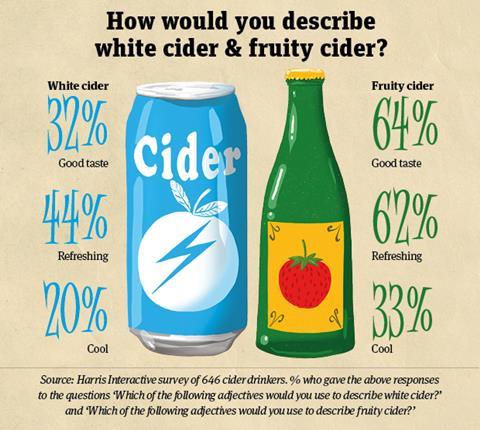 One thing white cider did have in its favour was that it was cheap. But in Scotland, the introduction of Minimal Unit Pricing (MUP) last May put an end to all that. The 50p per unit policy, designed to discourage binge drinking and alcohol-related illnesses, saw average cider prices jump by 17.8% in the week of its introduction (Brand View, 52 w/e 3 May 2018). A four pack of 330ml cans of K cider, for example, rose from £4.25 to £5.28 at Tesco in the space of a week (Brand View, 25 April 2018 vs 2 May 2018).
Now perceptions of white cider as reasonably priced are dropping away across the nation (despite no legislation-led change to price points south of the border). Only 28% of people thought it was cheap in our Harris Interactive survey, and 14% of 18 to 24-year-olds even thought it was expensive. And as Wales gets set to implement MUP in summer 2019 and England faces calls to follow suit, white cider may not be able to rely on price as a selling point for long.
Fruity cider, on the other hand, is tapping all the right trends. With brands such as Kopparberg retailing for £2.20 per bottle, it may not be cheap. But it's Instagrammable (you need only look at the accounts of Kopparberg, Old Mout and Thatcher's for proof) and two thirds believe it has a good taste and is refreshing. As many as 43% of 18 to 24-year-olds think it's cool to boot.
According to Heineken marketing director Toby Lancaster, these cool credentials have hinged on its diverse range of flavours. "There's a growing trend of consumers looking to try something different and experiment with flavour profiles," he says. "We're seeing a lot of consumers looking to experiment particularly with familiar flavours that have a twist of the unknown."
Indeed, new flavours were a key purchase driver for 22% of fruity cider shoppers in our Harris Interactive research. "These consumers are looking for a refreshing, tasty product in place of blander propositions that have dominated drinking occasions in the past," explains Kopparberg marketing manager Rob Salvesen. Which shows why consumers are willing to try such unusual flavours as kiwi & lime or passionfruit & apple (see below).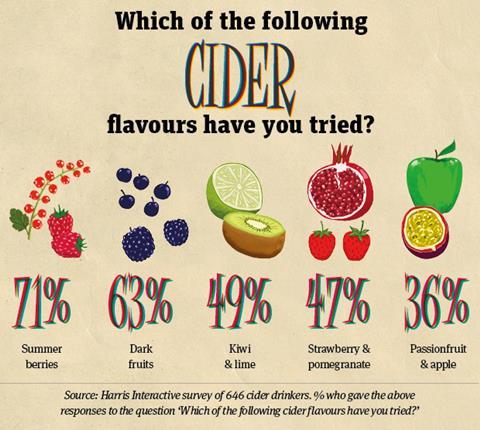 Kiwi and lime won't seem experimental for long, though. So to keep up this excitement, brands are continually bringing out new flavours. Stowford Press took aim at younger female drinkers in April with the on-trade launch of a Mixed Berries cider, which is set to hit the retailers later this year. Brand manager Holly Chadwick says the strategy is succeeding in attracting new, younger shoppers. "In the off-trade alone, 25.7 million fruit pints are now being drunk. It's clear to see that fruit ciders are broadening consumer interest in the wider category," she says.
She believes the momentum of fruity cider isn't set to slow any time soon. "There's been substantial interest in fruity cider nationwide, and we expect it to account for just under 50% of all cider sold within the next five years."
White cider clearly can't compete with all this flavour innovation. But fruity brands are now capitalising on other trends that could serve as lessons for the wider cider category.
One trend that caught the eye of Old Mout was the growth in demand for low and no-alcohol products, which have typically targeted the younger generation. "We've seen a 20% value increase in 'no and low' cider and a rise in consumers who are looking to live better," says marketing director Toby Lancaster. This prompted the brand to launch its first alcohol-free product – a berries and cherry cider – in April. The NPD aims to provide "a perfect alternative for the health-conscious consumer looking for something alcohol free without compromising on taste, as well as offering a new option for drinkers to enjoy exotic fruit cider during existing cider occasions."
Kopparberg is also targeting health-conscious drinkers, albeit in a different way. The brand expanded its low calories Light range to encompass new Cranberry variant in June, containing 83 calories per 250ml can and joining existing SKUs Summer Fruits Light and Raspberry Light. "As consumers become more health conscious and responsible, cider makers need to ensure that they are prepared by diversifying their portfolios to address these trends and ensure they have appropriate pack formats available to meet these needs," says Salvesen.
Then there has been some savvy marketing activity that targets young people through festivals. Kopparberg brought back its limited edition five-litre KopparKeg for the third time this May with the aim of infiltrating more festival and sharing occasions. Magners has ensured its Original and Dark Fruit cider, launched in December last year following the success of Strongbow Dark Fruits, will be available across 11 festivals this summer through a new partnership with festival operator Global. "We've also introduced bespoke Magners Cider Gardens at a number of the festivals," says group marketing manager Janette Murray. "The Cider Gardens have so far proven to be a focal point of the festival arenas and we've even treated attendees to special DJ sets from The Cribs and Mystery Jets."
Speaking of the original dark fruit pioneer, perhaps no cider brand has hit the millennial nail on the head like Strongbow this year. As well as officially sponsoring three music festivals, the brand is currently working on its pilot TV Show 'Re-Freshers Week, presented by Strongbow' set to launch on MTV in September, and has paired up with social media entertainment company LadBible for Dark Fruit's first individual above the line campaign. "We're lucky enough to have some extremely dedicated fans, who have gone as far as to create Dark Fruit ice cream and even get tattoos based on the brand," says Lancaster. "With the help of LadBible, we'll be bringing a campaign inspired by their acts of appreciation to a town near you soon."
White cider brands may have a long way to go before millennials start getting their logos inked on their skin, but they may just be able to learn some lessons from fruity cider. Otherwise the likes of Frosty Jack's are likely to be left out in the cold.
Creative Challenge
White cider isn't the only alcohol with an image problem. Having long been seen as fattening, beer is often a 'no-no' for the health-conscious drinker. Yet in much the same way that a small glass of red wine can provide beneficial antioxidants, studies have linked moderate beer consumption with a decreased risk of heart disease and even stronger bones. We challenged brand design agency PB Creative to come up with a beer for the health-conscious drinker. Here's what they came up with.
"For too long, beer has been associated with football louts and protruding bellies," says creative director Lloyd Moffat. Enter Hop Heart, the premium lager that's good for your heart.
"Hop Heart is all about changing the perceptions of beer and highlighting its health benefits," explains Moffat. "Not many people realise that beer is fundamentally made from just four natural ingredients, and contains high levels of vitamin B6, which helps decrease the risk of heart disease."
The three-strong range, supported through a multi-channel campaign including social media, healthy living and lifestyle magazines, is available in Copper, Golden and Green hop ale variants (abv 4%).
"We wanted the brand to be simple and effective in its delivery of communication," says Moffat. "The hop/heart icon was born from the desire to sum up the health benefits of the product within a single icon, and plays on the 'I heart NY' strapline. It's clear to anyone looking at a Hop Heart can that it's made using the finest natural ingredients, and that it's good for your heart."
With an rsp of £5.99 per six-pack, the range is aimed "primarily at those seeking a healthier lifestyle who don't mind spending a little more on products that are naturally good for them," continues Moffat. As well as reinforcing the message that "everything is good in moderation", Hop Heart's 330ml recyclable can format also delivers the "metallic finish required for a premium lager".
The latest cider innovations
Here's a quick look at the latest cider launches hoping to quench Brit's thirst for health, craft and premium drinks.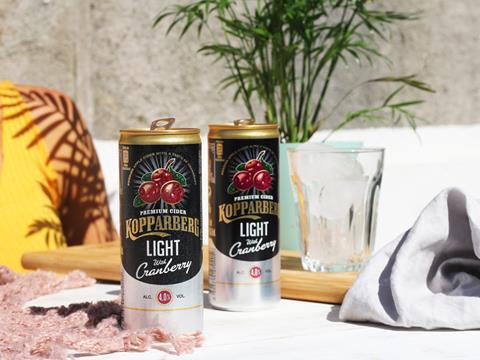 Kopparberg Cranberry Light
Launched: June 2018
Kopparberg's latest low-calorie option Cranberry Light (rsp: £1.87) rolled out exclusively to Morrisons in June, containing 83 calories per 250ml can. The range, which also includes Raspberry Light (85 calories per 250ml) and Summer Fruits Light (83 calories per 250ml), is set to expand further in 2019.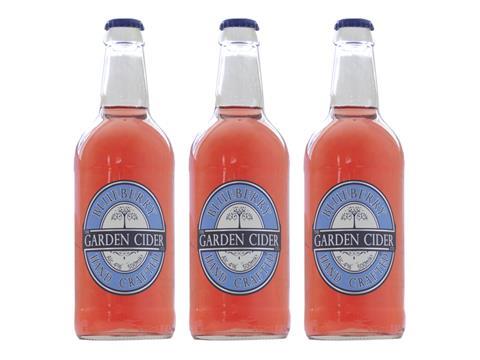 The Garden Cider Co Blueberry
Launched: June 2018
Made by hand from locally donated fruit, Surrey-based brand The Garden Cider Co launched its new Blueberry flavour across on and off-trade in June. The 500ml bottles (rsp: £3.50) join the brand's existing seven-strong range of craft ciders, including Elderflower, Dry Hop and Wild Strawberry, each selected for their prevalence in English gardens.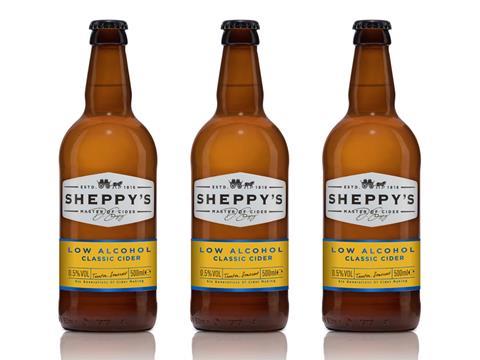 Sheppy's Low-Alcohol Classic Cider
Launched: July 2018
Premium cider brand Sheppy's introduced its first low-alcohol SKU last month in response to growing consumer demand for low and no-alcohol options. Created to replicate the flavour of the brand's traditional cider range with a 0.5% abv, the bottles (rsp: £1.30/500ml) are currently only available online, though the brand has stated it will announce a nationwide listing with a major retailer in September.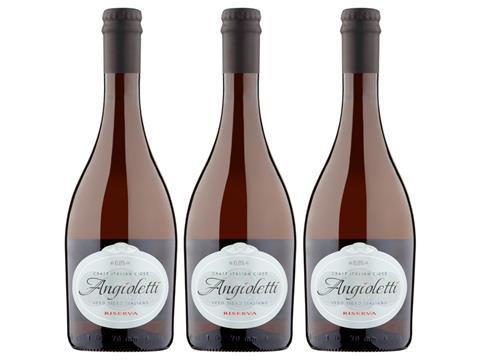 Angioletti Riserva
Launched: May 2018
The self-proclaimed 'only real Italian cider in the UK' hit the shelves of more than 400 Morrisons stores back in May, hoping to entice cider shoppers looking to trade up on their standard tipple. Made using 100% Italian apples, the 6.8% premium craft cider is produced and bottled in Trentino (rsp: £2/500ml), and follows the brand's Angioletti Secco, which launched in Tesco a month before.