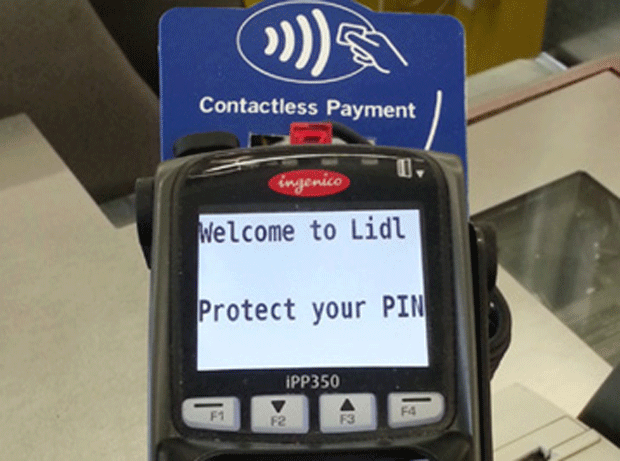 Contactless payments have arrived at the discounters, with Lidl recently completing a rollout of the technology to its 580 stores following a successful trial, and rival Aldi running a trial at selected stores.

Lidl's new contactless payment system - the iPP350 by Ingenico - was introduced into pilot stores in February 2013. The rollout to all of its stores was completed last month.

"The system has been introduced to meet customer demand for a wider choice of payment options," a Lidl spokeswoman said. "This will also allow payments to be made more quickly, which is an advantage to both our customers and our staff."

Aldi is also considering introducing the near field communication-driven technology. "We are currently trialling contactless payments in a small number of stores before taking the decision whether to offer this as a payment option nationwide," confirmed a spokesman.

Contactless payment has already been rolled out by a number of retailers over the past year including Marks & Spencer, The Co-operative Group and Costcutter and M&S claims it is currently processing more than 230,000 contactless transactions per week.

Recent research by Visa found the use of contactless payments in the UK has rocketed in the past year with the number of payments up 22% in the first quarter of 2013 on the same period in 2012. Consumers in the UK made 5.3 million contactless transactions in March 2013, worth more than £39m. One in four Visa cards in the UK are now contactless.

Contactless payment allows customers to pay for goods up to the value of £20 without entering their PIN. They simply have to holding their payment card or smartphone near the card reader for the transaction to take place.