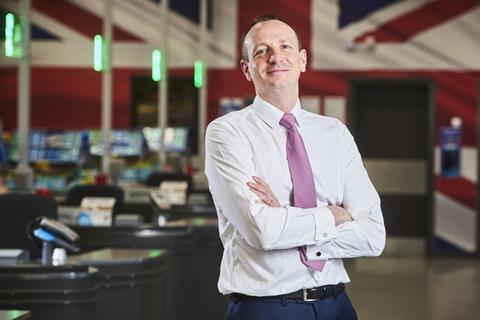 Aldi's UK and Ireland CEO has taken a swipe at Tesco's price match and clubcard campaigns, saying British shoppers "see through marketing tricks and gimmicks".
Speaking as the discounter announced its full-year results today, Giles Hurley claimed: "More expensive supermarkets can only imitate, not replicate, what we do."
This summer saw Tesco ramp up its 'Aldi Price Match' campaign, targeting the discounter across hundreds of own-label and branded products. Earlier this month Tesco also relaunched its 'Clubcard Prices Promotion', giving members further price cuts of up to 50% on hundreds of lines.
Asked how much pressure Tesco's price war was putting on Aldi, Hurley said: "Let's be clear, when you shop at Aldi, you don't have to pay up front, you don't have to join a club. You don't have to spend a certain amount each month to access our great prices and value. That makes us absolutely unique among any retailers now."
He added: "British consumers are I think pretty smart. They see through marketing tricks and gimmicks. They're pretty savvy and they actually know the only place you can get Aldi prices is Aldi.
"We have a really simple and efficient business model. It offers customers a straightforward and affordable shopping experience and you just can't copy that."
Aldi saw UK and Ireland revenues jump 8.3% to a record £12.3bn in the year ended 31 December 2019, credited to an influx of new shoppers.
The retailer said it would create 4,000 jobs next year and invest a record £1.3bn over the next two years into new and upgraded stores, distribution centres and further innovations across its business.
On whether not being online had held back Aldi's growth during the pandemic, Hurley acknowledged: "Consumer habits have changed and we're very simply evolving the business model to meet the needs of our customers.
"The fact I'm announcing a £1.3bn investment in Britain over this year and next year says that we continue to have enormous confidence in our store portfolio. A majority of those funds will be about expanding our network of stores."
Aldi has sold online in the UK since 2016 but until recently the offer was limited to general merchandise Specialbuys, along with wine, spirits and a small number of ambient products such as coffee pods. In May this year the business launched its first UK launch rapid grocery delivery service in partnershipwith Deliveroo, a trial that has since reached 20 stores.
That was joined last week by the launch of a new click & collect service from a Loughborough store.
Hurley said the supermarket was days away from announcing the next 15 stores to offer click & collect.
"Over the coming days we'll make a further announcement about scaling to 15 stores, so that we can garner more information and undertake a more rigorous trial."
He said Deliveroo remained "interesting when you don't have car parking spaces in more built-up locations".
"Deliveroo have an excellent track record in working with restaurants and takeaways and we do have city locations which seem to particularly suit that model."
Hurley also commented on a rise in demand for some products following the announcement of new lockdown restrictions last week. He said there had been an "uptick in areas like toilet paper, pasta, rice and tinned food" but "nothing like what the industry saw back in March".
He said Aldi had not reintroduced purchasing limits on products.
"We were the first retailer to introduce product restrictions in the early part of the year, and we're watching the situation very closely at the moment, day in, day out.
"At the moment there's no need to introduce those restrictions, our availability is good and as long as customers continue to shop as they normally do, buy what they need when they need it, then availability will continue to be excellent."