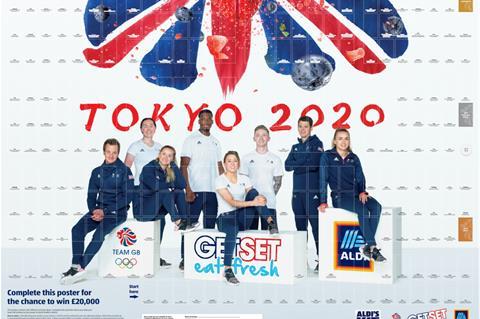 Aldi is to give 20 primary schools £20,000 each to spend on sports equipment in a prize draw.

To be entered in the draw, schools must collect 300 Aldi Team GB stickers to complete a sticker chart.

Aldi will hand out one sticker with every £30 spent in store, so schools will rely on shoppers in the local community to help complete the chart.

The Kit for Schools competition is part of Aldi's partnership with the British Olympics team and launches on 6 September.

All UK primary schools are eligible and can register to receive their chart at getseteatfresh.co.uk/kitsforschools.

"Being active at school is incredibly important, and our Kit for Schools campaign will give even more young people the chance to take part in additional sports activities," said Aldi UK marketing director Sean McGinty.

"We will continue to work with schools across the UK in the run-up to Tokyo 2020 in an effort to encourage children to enjoy a healthy lifestyle."

Team GB commercial director Tim Ellerton said: "Aldi's Kit for Schools initiative will open up a whole range of new opportunities for local school pupils to get involved in sport with good quality equipment across a range of sports, and help drive enjoyment and activity as we look ahead to Tokyo 2020 in just under a year's time."

Schools can register until 3 November and have until 18 November to complete the sticker chart.

An Aldi spokeswoman said the prize draw would take place "between November and December and schools will be told about the next steps on receiving the money when they are notified in December".