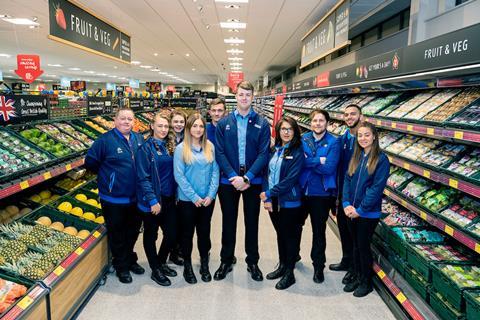 Aldi is on course to have created 4,000 new jobs in 2020 despite the disruption of the pandemic.
The discounter said today it remained on track to hit its target of 1,200 stores by 2025, up from around 890. It means opening an average of one a week between now and Christmas.
About 2,800 new permanent jobs had already been created so far in 2020, and 1,200 more would be added by the end of the year, Aldi said.
Earlier this month, Lidl also renewed its growth target despite the pandemic, saying it was on course to have 1,000 stores by 2023, up from around 800, and create 1,000 new jobs in the second half of 2020.
It comes as thousands of people are affected by job losses at other retailers, from Selfridges to Poundstretcher. Others to announce job cuts this month include M&S, John Lewis, Boots, Harrods and Fortnum & Mason.
Aldi employs 35,000 people across the UK, on a minimum hourly rate of £9.40, rising to £10.90 inside the M25. Each new store opening creates an average of 30 new jobs, according to the retailer.
"As much as the disruption of the past few months has been challenging, it has also reminded us that there are still hundreds of towns across the UK where shoppers don't have access to Aldi's award-winning quality products and unbeatable prices," said Aldi UK CEO Giles Hurley.
"I've been very proud of the tireless work my colleagues have put into feeding the nation. To continue doing this and meet our goals of making Aldi accessible to even more shoppers, we will need thousands more amazing colleagues across the country. I look forward to welcoming each and every one of them to the team."