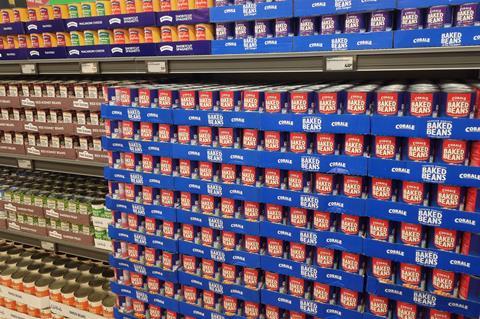 Aldi is getting rid of plastic from all multipacks of its own-label Corale baked beans, in a rollout of a trial launched in 86 stores in 2020.
The move is achieved by ditching multipacks and applying a multibuy discount for customers who arrive at the checkout with four tins.
The multipacks will be removed from all of Aldi's 950-plus stores, saving 78 tonnes of single-use plastic a year, according to the discounter.
Aldi today said it would also trial the same move for multipacks of sweetcorn in a number of stores this summer.
"Removing unnecessary plastic from our multipack of beans is another step forward in our commitment to reduce plastic across our ranges," said Aldi plastics and packaging director Richard Gorman.
"We know it's becoming increasingly important to our customers that their everyday products are environmentally-friendly, and we're pleased this move will help them shop more sustainably."
A number of other supermarkets including Tesco, Waitrose and Morrisons have also taken steps to remove plastic from multipacks of tinned veg. In Tesco's case, as well as own label, the move has applied to brands such as Heinz.
Aldi has previously pledged to make all own-label packaging recyclable, reusable or compostable by the end of 2022, and achieve the same for branded products by 2025. It is also working to halve the volume of plastic packaging it uses by 2025.