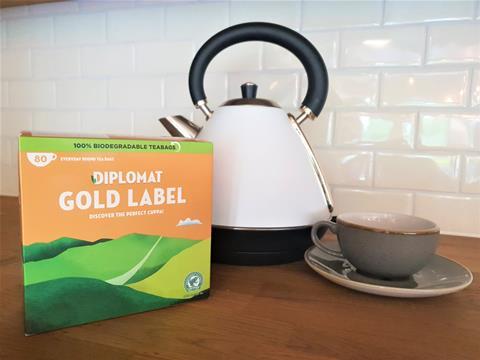 Aldi has said it will remove single-use plastic from all own-brand teabags by the end of 2021.
The discounter is to swap the teabags' oil-based plastic sealing for biodegradable materials following trials. It will make them 100% biodegradable, Aldi said.
The supermarket said today it was also removing outer plastic packaging from own-brand tea products. Together, the moves would eliminate 1.4 billion pieces of single-use plastic and prevent 80 tonnes of the material from going to landfill each year, it said.
"By the end of this year, all of our own-brand teabags will be biodegradable and contain no plastic whatsoever," said Aldi UK plastics and packaging director Richard Gorman.
"The changes we've made to our tea range will help us reduce our environmental impact and offer our customers even more environmentally sustainable options when they shop at Aldi."
Aldi is not alone in exploring more sustainable materials for teabags. Last July saw fmcg giant Unilever's PG Tips brand move its entire retail range into plant-based bags.
Sainsbury's said in January this year it was testing a more sustainable plant-based plastic as an alternative for oil-based plastic sealing material.
Aldi last year pledged to halve the volume of plastic packaging it uses by 2025, a target that is set to see 74,000 tonnes of the material removed from products over the next four years.
The supermarket said today it was also on track to make all own-label packaging recyclable, reusable or compostable by 2022, and hit the same target for branded products by 2025.