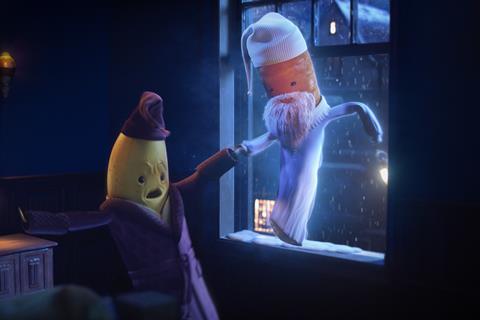 Aldi's Christmas ad has been deemed this year's most effective, based on a survey of 3,600 consumers that included using facial recognition AI to gauge emotional response.
The discounter's latest outing of Kevin the Carrot, which framed the character in a new take on A Christmas Carol, stood out as more 'distinctive' and 'enjoyable' than rivals' festive campaigns.
The Kantar research also considered the ad's effectiveness in holding attention, motivating the audience to buy in the short term and contribution to longer-term brand success. After Aldi, Coca-Cola's ad was ranked the second best of the 24 ads compared, followed by Lidl's and Marks & Spencer's.
Kantar head of creative excellence Lynne Deason said Aldi's inclusion of Marcus Rashford as a radish conveyed both humour and purpose, highlighting the discounter's support for the footballer's campaign against child food poverty.
"Aldi's new take on a Christmas classic is a great example of how a brand can convey serious messages about purpose and social impact while still being great fun," said Deason.
"Aldi uses humour effectively, something especially important in a year when we all need an extra laugh, but it also has a deeper sentiment. The clever inclusion of 'Marcus Radishford' highlights a worthy cause – the campaign to provide meals to those in need – without coming across as too sombre to viewers.
"And by borrowing from one of the most well-known and loved Christmas stories of all time, it sets out a complicated narrative without ever being confusing."
Ads that struggled to resonate with consumers were those with sad or complex storylines, where the intended happy ending didn't stand out or the audience was left confused, according to Kantar.