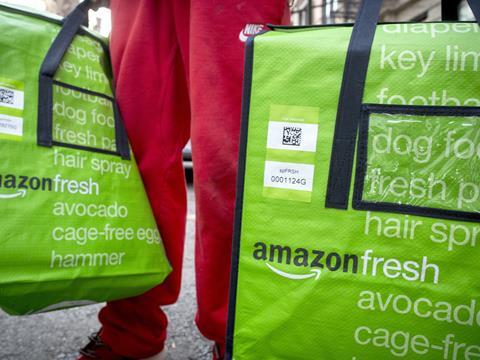 Anyone fancy a long-life beef stew? Or a vegetable frittata that dates back to August 2016? Thought not. But if Amazon has its way, this will be the new currency of the ready meal market.
According to recent reports, the online giant has teamed up with Denver-based startup 915 Labs to work on a food preparation method called "microwave-assisted thermal sterilisation". Like all great foodie discoveries, it was pioneered as a means of feeding the US military (presumably when no proper food was available). Now Amazon wants to use this technology – which involves placing sealed packages of food in pressurised water and heating them in a microwave – to feed the masses. The technology purports to keep the food's natural flavour, texture and nutrients for up to a year, with no need for refrigeration. Tasty.
It sounds like the kind of food that may prove popular after a nuclear apocalypse (which, to hand it to Amazon, is looking ever more likely). But if Donald Trump and Kim Jong-un don't succeed in destroying life as we know it, the appeal is arguably more elusive.
Firstly, Amazon is tapping a declining market. In the past year, the canned and ambient category declined by 2.6% to just shy of £2.2bn [Kantar Worldpanel 52 w/e 31 March 2017], as consumers veer more and more towards the fresh aisles. Iceland has had a hard enough time convincing consumers that frozen is just as nutritious as fresh, so what chance does Amazon have in selling year-old frittatas?
Secondly, the idea seems at odds with the preferences of its high-end online grocery customers. Last week, Amazon revealed the top 10 foods ordered through its AmazonFresh service in the UK were all fresh (Fairtrade bananas, cucumber and avocados topped the list). Its foodie subscribers were particularly likely to buy into trends such as courgetti, watermelon water and sourdough bread.
Urban hipsters
For these urban hipsters, buying an ambient ready meal would presumably be only one sorry step away from ordering a Big Mac at an anti-capitalist protest washed down by a Starbucks Grande. In the US, AmazonFresh customers are similarly high end – as evidenced by their willingness to pay $19.99 for a salmon nicoise salad. (And let's not forget that the year-long shelf life of the ready meals would bring more than a hint of irony to the AmazonFresh name.)
But perhaps we're looking at this the wrong way. After all, the ambient nature of the meals means they need not be sold through the AmazonFresh channel. There would be nothing to stop Amazon peddling these on the main site, which offers one-hour or two-hour delivery through Prime Now. The option could appeal to the convenience-led consumer looking for a cheap alternative to a takeaway, rather than a loyal AmazonFresh foodie.
But, bar world-changing disasters, it seems unlikely microwave-assisted thermal sterilisation will be the food of the future.