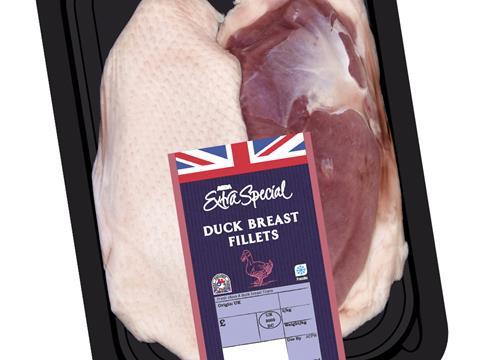 Asda is claiming a UK supermarket first, with the launch of a year-round supply of duck products under its premium Extra Special tier.

Four new products, supplied by Faccenda Foods, hit shelves at the end of September: duck breast fillets (rsp: £6/400g); breast steaks (£6/375g); legs (£3.80/450g) and whole ducks (£7/2.1kg). They joined an existing duck breast portions SKU (£4/250g) launched earlier in the year.

Asda said it was "confident" duck at a "competitive price" would appeal to a wider market, particularly as the 250g duck portions were included in its three for £10 promotion.

Duck was a "really versatile option, from rich and indulgent, or if you remove the skin, one of the leanest meats around" said Asda buyer Alice Wainwright. "I'm sure that people trying it for the first time will definitely be back for more."

The new range represented a milestone for Faccenda, said sales and marketing director Greg Choulerton, who added it was the only major poultry processor to supply chicken, turkey and duck to the mults. It follows the acquisition of duck processor Cherry Valley Foods in 2015.

"We acquired Cherry Valley with a view to making duck available through retail channels," he added. "After investment in our processing site, trials and promotions it's great to see the products readily available to shoppers all year round."

It comes as Faccenda presses ahead with the formation of a joint venture with US-owned meat giant Cargill's UK arm, which would create a standalone business focusing on fresh chicken, turkey and duck. Subject to regulatory approval, the venture would see Cargill and Faccenda become equal shareholders in the new company which will employ 6,000 and process 223 million birds per year.