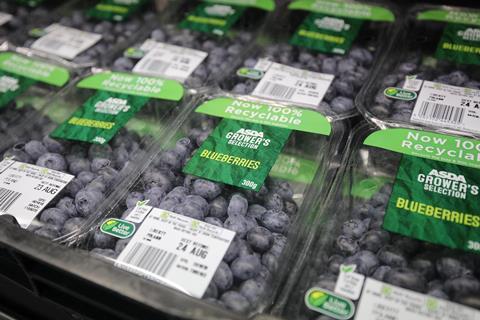 Asda has unveiled a 100% recyclable blueberry punnet that will allow consumers to recycle the film lid as well as the plastic tray.
The packaging innovation would see 5.5 million lids saved from landfill per year, the retailer said.
The new design, made entirely of PET plastic, welds the lid to the tray so that it does not fully pull off; a measure Asda said would make recycling simpler for customers. It has been made available both in-store and online.
It will now trial the new packaging on other own-label fresh produce lines, including grapes and tomatoes, with the aim of recycling about 110 million lids a year.
"We are continuing to work hard to look at innovative solutions to help our customers on the journey to use less and recycle more," said own-brand packaging development manager Fiona Dobson. "We know it's something they and our colleagues are really passionate about.
"This latest move to help make recycling easier for our customers is another important step on our journey as a retailer to make all our own brand packaging, whatever material, 100% recyclable by 2025."
In July, Asda's own survey data of at least 1,000 shoppers showed 94% felt personally responsible for recycling, which the retailer said indicated sustainability was at the forefront of its customers' minds.
It is the latest development in Asda's battle to reduce its plastic usage and follows measures such as removing plastic forks from own-label salads and reshaping its Easter eggs.