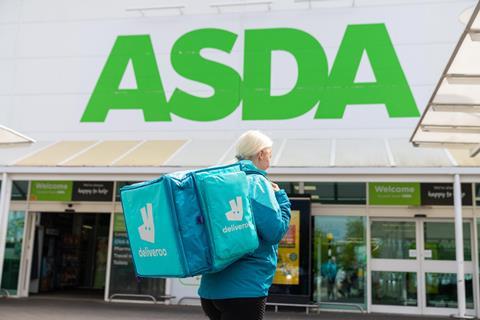 Asda has struck a new deal with Deliveroo to offer on-demand grocery delivery from 300 stores by the end of the year.
The partnership is kicking off this month with 15 stores across Wakefield, Leeds and Manchester to offer shoppers a choice of over 2,400 Asda products on the Deliveroo app or website.
The range includes everyday essentials, such as teabags, milk and cereal.
Asda has offered on-demand grocery delivery in partnership with Uber Eats since 2020. The latest rollout of that deal, in June this year, took it to 400 stores in total.
The supermarket said today the two services would run alongside each other, with some stores offering both.
"We want to create more opportunities to conveniently shop favourite Asda products and offer the broadest range of delivery options of any grocer, giving customers the flexibility to choose how and when they shop with us," said Asda senior VP of e-commerce Simon Gregg.
"Our partnership with Deliveroo will extend this further, as Asda customers across the UK will soon be able to get products delivered in as little as 30 minutes."
Deliveroo UK&I director of grocery Georgie Williams said: "Asda offers great value for money and we're delighted that Deliveroo customers can shop from a huge range of products, bringing even more choice to families and households across the UK."
Earlier this week, Deliveroo extended its partnership with Co-op for a further three years, with plans to add another 110 stores to the platform.
It means a total of 1,400 Co-op stores will offer the service, with new areas including Nottingham, Liverpool, Swansea and Southampton.