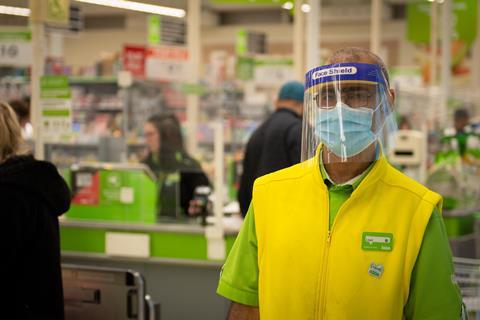 Asda is ramping up its Covid security measures in store ahead of the second national lockdown, which comes in tomorrow.
The supermarket will beef up the presence of marshals at the front and in logjam areas of stores to try to ensure social distancing.
It is also rolling out an automatic system to alert staff when stores are nearing capacity.
The supermarket announced tighter Covid-19 measures in September, including employing 1,000 new safety marshals and making it compulsory for store staff to wear masks.
It said the latest moves would see the marshals' hours extended from peak hours to be on duty at the front of every store from 8am to 8pm.
Covid safety marshals will also be positioned in the busiest sections of larger stores to manage footfall, while Asda said it was adding 700 additional sanitisation stations at stores, on top of the 3,500 already in place.
A spokesman said the message to managers was that there were "no limits" to the resources available to them prevent issues in store.
The supermarket urged customers not to stockpile as England goes into a new lockdown, saying it had good product availability in store and online.
But CEO Roger Burnley said it was acting to ensure customers received as much protection as possible in the month ahead.
"Providing a safe environment for our customers and colleagues to shop and work has been our priority throughout the pandemic and we are stepping up the measures we have in store to provide additional protection," he said. "We would ask customers to play their part by respecting social distancing and shopping responsibly when they visit our stores."