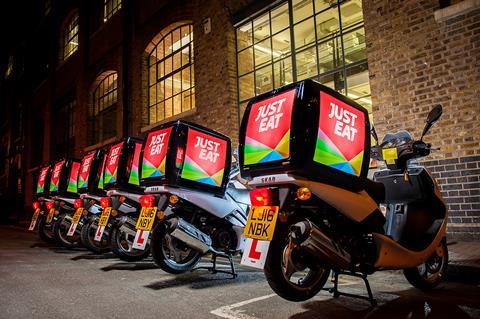 Asda is to offer a range of 1,000 groceries by rapid delivery in a new deal with Just Eat.
The service will be available from five as yet unnamed Asda stores via Just Eat's app and website from January, in what the delivery company has called its "first tie-up with a major UK grocer".
Just Eat has been delivering cooked pizza from Asda stores since 2018. As long ago as 2019, then-Asda CEO Roger Burnley said the trial would extend to express grocery delivery from two stores. It's understood those plans were put on hold as the pandemic arrived and Asda instead partnered with Uber Eats to offer on-demand grocery delivery in 2020, a service which has expanded to about 200 stores.
Just Eat CEO Jitse Groen has previously expressed doubts about the profitability of rapid grocery delivery, though the company delivers for thousands of convenience stores. It began supermarket grocery deliveries in Germany in May but just a few months earlier Groen had said "the [grocery] opportunity is relatively small".
In a tweet responding to an announcement of a tie-up between Waitrose and Deliveroo last year, Groen said: "The problem with grocery is that there are no margins."
Just Eat has not specified how quickly it will deliver groceries from the five Asda stores.
"We live in an on-demand world, and as the UK's largest food delivery aggregator, we want to ensure we are getting our customers the food they want, when they want it," said Just Eat UK MD Andrew Kenny.
"Our tie-up with Asda means we can help people access everything from store cupboard essentials to fresh groceries in a matter of minutes. It's a really exciting development and we look forward to working with Asda on what I'm sure will be a popular addition for our customers."
Asda VP of online Simon Gregg said: "We're always looking for new ways to offer customers more choice and extend the number of delivery options available, to help them conveniently shop for their favourite Asda products.
"Through working with Just Eat we're able to give customers in new locations the opportunity to select from a broad range of grocery items for speedy delivery to the doorstep. The trial will also see Asda become more accessible to a wider customer base through Just Eat's significant presence in the on-demand food delivery space."