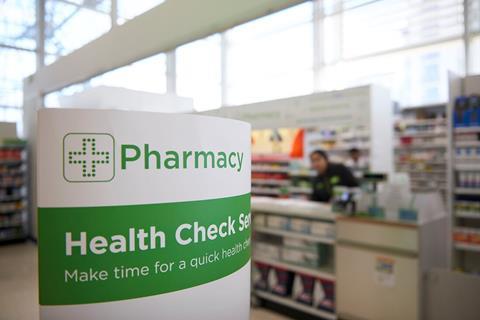 Asda is set to become the first supermarket to provide in-store Covid vaccinations.
The supermarket revealed it had been selected by NHS England to operate a vaccination centre from an in-store pharmacy in Birmingham, from 25 January. Qualified Asda pharmacy staff will administer jabs, starting with priority groups.
Asda said its George department at the store would be turned into a vaccination centre – which will operate 8am to 8pm, seven days a week, with the capacity to administer 250 jabs per day.
The site is the first Asda pharmacy to be approved to support the Pfizer/BioNTech vaccine programme. Asda said it was working with Public Health England and NHS England to assess other sites within its estate that could support the programme.
Priority groups will have the option to select the Asda store as a convenient location to receive their vaccination, but will not be expected to contact the store directly.
Asda has also offered NHS England the full use of its 238 in-store pharmacies and qualified pharmacists to support the rollout of the Oxford/AstraZeneca vaccine programme.
As this vaccine is easier to transport and store, it could be administered from Asda's full network of in-store pharmacies throughout the country.
Read more:
Other supermarkets have also offered to provide facilities for the rollout of the vaccine, with Tesco having held talks over helping with distribution and Morrisons beginning vaccinations at portable buildings in three of its store car parks from this week, with another 47 on standby.
"We are incredibly proud to provide this service and are keen to do all we can to help the NHS and government accelerate the rollout of the vaccination programme, said Asda CEO Roger Burnley.
"We have an extensive nationwide logistics network that could support the storage and distribution of the vaccine and our highly trained pharmacy colleagues are experienced in delivering large vaccination programmes, having recently provided nearly 200,000 flu jabs to members of the public.
"We are on hand to provide the NHS with any practical support required so that more people can quickly receive the vaccine."
Burnley wrote to Asda's customers this morning to update on what Asda was doing in the fight against Covid-19. In an email, he said: "It's crucial that we all play our part, support one another, and help take the pressure off the NHS."
Meanwhile, Boots has this week launched its first in-store vaccination site, in Halifax.
The first Boots mass vaccination site, which will also be administering the Oxford-AstraZeneca vaccine, will operate from purpose-built facilities in its pharmacy.
Boots said two additional vaccination sites in Huddersfield and Gloucester would open in the near future, with discussions underway on the potential to expand this to more mass vaccination sites in the coming months.
It said the company had set up specialist centres in its pharmacies that allowed the Covid-19 vaccine to be administered by pharmacists and ensured that exceptional safety, clinical and operational standards were met while achieving the vaccination of at least 1,000 patients per site each week.
Patients will be provided the option to book their vaccination appointment through the NHS booking system, once it is open.
"Boots has already conducted over two million Covid-19 tests on behalf of the NHS and now we are proud to play our part in vaccinating the nation," said Boots MD Seb James.
"Our vaccination sites are clean, clinical environments, in accessible, convenient locations, like high streets, and we have extensive experience in vaccination services, having carried out over a million flu vaccinations in this winter flu season alone.
"We hope to help the NHS and enable more people to get the vaccination quickly. I am incredibly thankful for the whole team's support in helping make this happen."