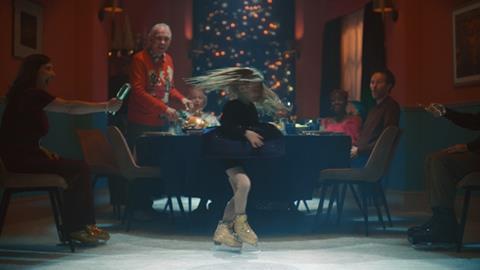 Asda has become the first of the big four retailers to unveil its festive marketing campaign, debuting its 'Asda on Ice' advert on 5 November on ITV, during the ad break in Coronation Street.
The ad was choreographed by three-time Dancing On Ice winner Daniel Whiston to "ice dancing classic" the Bolero, known to fans of the ITV competition and as the soundtrack to a British gold medal for Jayne Torvill and Christopher Dean in the pairs figure skating at the 1984 Winter Olympics.
The on-ice concept was a metaphor for having to put Christmas celebrations on hold during the pandemic, said Vicki Maguire, chief creative officer at Havas London, which created the concept.
"Given families were forced to put Christmas 'on ice' last year, we thought it was only right we did the same this time around – literally," she said. "We wanted to go big for our first Christmas spectacular with Asda – and you can't get much bigger than Bolero, backspins and a giant chocolate bauble for dessert."
Its minute-long advert follows a family completing the usual tasks in the run-up to Christmas Day, including shopping, school plays and parties. The key difference is that all those activities are navigated on ice skates.
Asda's hero Christmas range products feature in the advert, including centrepieces, desserts and party food.
"We didn't just miss the opportunity to enjoy Christmas dinner together last year – we missed the school plays and the work nights out," said Asda chief customer officer Meghan Farren.
"This year we want to help our customers make every moment spectacular. 'Asda on Ice' takes everyday moments and turns them into a beautiful performance – and that is just the kind of magic we want to bring our customers this year."
In addition to the Asda on Ice film, the retailer will also be airing four additional 30-second ads that focus on the products on offer across Asda's gifting, decorations, party food and Christmas dinner ranges.