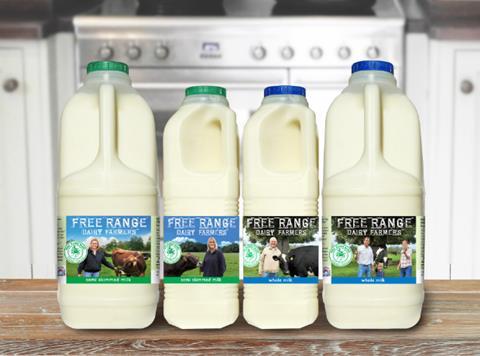 Milk brand Free Range Dairy Farmers has secured its first supermarket listing and will go on sale in Asda tomorrow (1 March).

The launch of the brand - first revealed by The Grocer in January - represents the first time a major supermarket has sold accredited free-range milk in the UK.

The milk is processed by Oxfordshire-based fresh and chilled supplier Highgrove Foods, and sourced from Pasture Promise-accredited farms, which requires farmers to graze cows outside for at least 180 days a year.

It will initially be available in 109 Asda stores in semi-skimmed and unhomogenised whole milk variants in one and two-litre bottles (rsp: 90p and £1.50 respectively).

Most dairy farmers graze their cows for part of the year. However, there are currently no guidelines set by the industry to specify the number of days and nights a cow should be kept outdoors.
Asda said listing the new brand would offer customers "more choice and transparency when it comes to the milk they put in their shopping trolleys".

The retailer had been "very positive" in its dealings with the Free Range Dairy Network, which runs the Pasture Promise scheme, said owner Neil Darwent. "We're over the moon that Free Range Dairy Farmers milk will be available across the UK on Asda's shelves," he added.

"We hope that by customers being offered an active choice as to the kind of farming system they want to support, we will be able to grow the Free Range Dairy Network and recruit more dairy farmers who'll be able to benefit from this simple farming method."

The Free Range Dairy Farmers brand was also in discussions with other retailers over listings, said Highgrove Foods owner John Goodwin.

"Asda got the idea straight away and have been very supportive. They have committed to taking our first tranche of milk, representing about 70,000 litres a week," he added. "The key thing now is that all of this interest, which accelerated after Jamie Oliver featured free-range milk on his show last month, transfers into sales."
The right thing to do
Asda had launched the Free Range Dairy Farmers milk brand "because it's the right thing to do for our customers" said senior buying manager for milk, cream and cheese Jenny Cannon.
"We're excited to have the opportunity to work with the Free Range Dairy Network on Free Range Dairy Farmers milk and hope our customers love it too.

"We will be monitoring demand for the milk in all stores and will work closely with the Free Range Dairy Network to make sure the milk is available to as many customers as possible."

The launch was welcomed by NFU dairy board chairman Michael Oakes. "It's positive to see a new brand of milk launched. There have been a number of new brands in recent years and it's good to see more differentiation and consumer choice in the milk aisles," he said.

"Part of the NFU Dairy Board strategy is promoting the best of British at home and abroad and we would urge any new brands to focus on positive, constructive messaging that promotes dairy. No matter what system farmers choose, it's about happy, healthy cows which are vital to producing high quality dairy products.
The Free Range Dairy Farmers brand is not the only free-range milk product set to roll-out this year. Rival brand Enjoy Milk told The Grocer in January it was gearing up to launch the brand by the spring in a bid to offer a "tangible alternative" to mainstream own-label and branded milk.