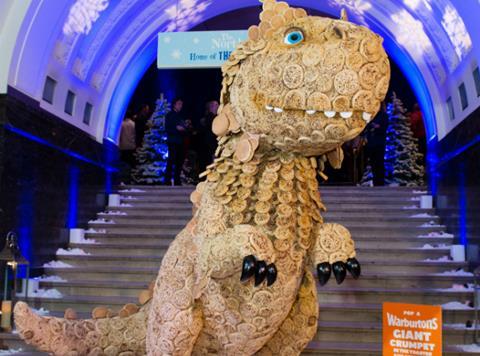 Warburtons has created a 2.5m-tall dinosaur from giant crumpets to mark the publication of The Christmasaurus, bestselling author Tom Fletcher's new children's novel, which features mischievous elves who enjoy toasted crumpets.
The bakery giant's construction was revealed last night (5 October) at The Natural History Museum during the book's launch party.
Set on Christmas Eve, the story follows the adventures of a boy named William Trundle and an unusual dinosaur called the Christmasaurus.
"The Christmasaurus really is such an entertaining read, so is a natural fit for our family brand," said Sally Stanton, head of marketing at Warburtons. "After hearing that Tom's elves loved crumpets just as much as we do, we figured it was a fantastic opportunity to join forces."
Fletcher – who is a guitarist and singer in the pop band McFly – said he had avoided pictures of Warburtons' construction because he wanted his first sight to be in the "buttery, toasted flesh".