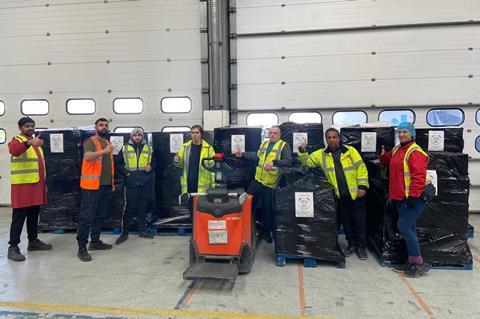 Earth & Wheat, the wonky bread subscription service launched by a 21-year-old baker, has sent 700 boxes of bread to Ukrainian refugees in Poland.
The business, which launched in 2021, has sent nine pallets – the equivalent of £5,000 worth of wonky bread boxes – to Przemyśl, Poland, six miles from the border with Ukraine, in partnership with the Red Cross and logistics firm Oakland International.
"Since the conflict started, I've been trying to find a way of helping the refugees by getting our bread boxes to the Polish border, and have now managed to do this through Oakland International," said Earth & Wheat founder James Eid.
"They told me some of the trucks that went last week were driven by Ukrainian drivers who became stranded when Russian forces initially invaded. These guys were taken in by Oakland, given food, water, accommodation and the means to contact their families, before being given a full tank of diesel and a trailer-load of aid donations to return home with.
"I set up Earth & Wheat to reduce food waste and help food charities, but now it's about responding to the humanitarian crisis in Ukraine and doing all we can to help these people fleeing this dreadful war," Eid added.
Since its launch, Earth & Wheat, whose boxes offer loaves and other bakery items which would have otherwise been thrown out due to not meeting shop standards or overproduction, claims to have 'rescued' 450 tonnes of bread, received 150,000 orders and donated 150,000 meals to food charities.
It has expanded into vegan biscuits with a second offer, which launched in October, with boxes filled with six types of broken sweet and savoury vegan biscuits such as cookies, gem biscuits, gingerbread, crackers and water biscuits that would otherwise have gone to waste.