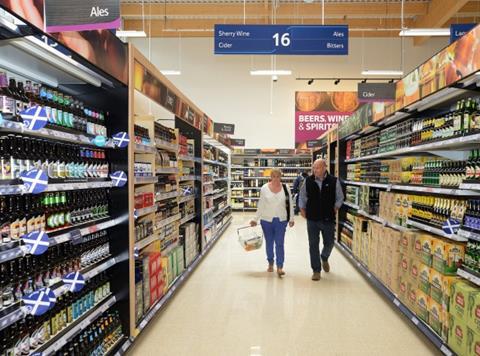 Tesco has given a significant boost to its booze aisles, adding a raft of posh spirits and giving space back to mainstream lager brands.
The retailer has added 66 new beers and spirits this week, research by The Grocer reveals. Unlike last year's range review, which saw Tesco focus on trendy craft beers, the latest shake up has seen big brands such as Bud Light, Greene King and Estrella gain more shelf space [Brand View 52 w/e 9 April 2018].
Heineken also gained another nine listings in the retailer, having already seen its total SKU count in Tesco grow by 11 since the end of January. It means the brewer now has 48 SKUs on Tesco shelves - almost the same as it had prior to the retailer's well-publicised ditching of over 30 lines last year.
Amstel, which was completely delisted last year, has returned in 4x440ml and 15x300ml packs, alongside new listings for Kronenbourg, Bulmers and Orchard Thieves. A Heineken spokesman said the brewer "does not comment on individual customer arrangements".
Asahi Super Dry, which disappeared from Tesco shelves (and those of Asda, Morrisons and Sainsbury's) in January amid claims of a pricing dispute spurred on by Asahi UK's decision to bring brewing of the posh lager in house, has also won back space.
In spirits, Tesco has boosted its single malts with the likes of Ardbeg 10 year, Bowmore 12 year and The Glenlivet 12 year, and added a brand new Bourbon Cask edition of blended Scotch brand Famous Grouse.
Craft gins and fruit liqueurs also did well, with fresh listings for Boë, Carthy & Black, Edinburgh Gin Elderflower and Whitley Neill Rhubarb & Ginger.
No major changes appear to have been made to Tesco's wine range yet.