Budweiser's UK boss is steering the megabrewer through a major inflection point, taking the brand 'beyond beer' as it steers its way through headwinds
Bar room philosophising may be more the preserve of hazy Friday nights, but for Budweiser's UK president Brian Perkins, 11am Monday does just as well. "Pubs are a sacred gift to humanity and culture," he expounds from an empty London boozer, city workers drifting past outside the window. "Life would be a lot worse for everyone if we didn't have them."
While it may not be the most surprising sentiment from the boss of the UK's biggest beer company, Perkins' ideas around beer go much further than that.
And so they should. Perkins took over the helm at Budweiser in December 2021 when the business was at an "inflection point", according to its European president Jason Warner, largely thanks to the likes of Corona and Stella Artois making it "the most penetrated brand portfolio in the UK". Consequently, there were question marks, from the outside at least, about where future growth would come from.
Perkins was a 10-year marketing veteran when he took over. His answer to Budweiser's problem? Go "beyond beer". First and foremost by diversifying into spirits through new drinks like Cutwater, a canned cocktail, and Corona Tropical, a vodka and sparkling water RTD. Such a move is increasingly common among beer brands, with BrewDog the latest to turn to the harder stuff.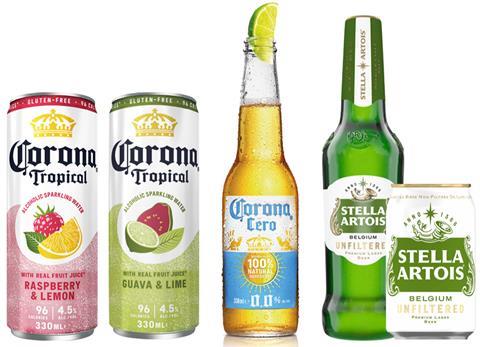 But Perkins is also prioritising boosting beer drinking at mealtimes, a realm in which it has often struggled to make its presence felt. Traditionally that's meant dinner, but Perkins points out that the rise of non-alcoholic beers means lunchtime is also now up for grabs. "It's important not to fight what consumers are asking for," he says. "If they want more non-alcohol options, it's our job to make them."
Perkins even goes so far as to say low & no options should be added into supermarket meal deals. "I'm sure many people would prefer a natural drink to a synthetic alternative with their lunchtime crisps and sandwich," he says.
'The rationale for going out to the pub has become harder to justify'
No doubt the man has his hands full. Back when he took over, he declared pubs would be a major focus for the megabrewer – a bold statement to make in the midst of a pandemic. Even so, since then things have arguably got tougher. A 20-year supply deal with JD Wetherspoon, signed in 2021 – what Perkins originally called "a sign of what's to come" – turned toxic in March over Budweiser's claims that Wetherspoons is not displaying enough of its beers on taps. (Budweiser's threats to withdraw supply could see the dispute go to the High Court.)
And despite Perkins' own clear passion for the pub, a cost of living crisis means right now at least, not everyone feels the same. "The rationale for going out to the pub has become harder to justify," he says. "That is a worry."
Budweiser is fighting back though, launching a pub taskforce to "drive footfall, dwell time and spend". One of its strategies is a 'Get every Bud home safe' initiative in partnership with the Walk Safe app, which aims to help people identify safer routes home and highlights crime-dense areas to avoid. "The goal is to make going out to the pub a more attractive experience."
Name: Brian Perkins
Age: 40
Kids: Two kids – Grey (10) and Grant (7)
Hometown: Johannesburg
Potted CV: I worked in consulting and investment banking before joining Anheuser-Busch InBev 12 years ago after graduating from Harvard Business School in the US. After more than a decade with the company in various marketing, sales and management roles, I now have my "dream job". It sounds like a cliché, but it's my first chance to run an entire company and I couldn't be happier
Best career move: Joining AB InBev
Business idol: Dietrich Mateschitz, founder of Red Bull
Hobbies: CrossFit, boxing, reading
Cocktail: Corona mojito… beer-based cocktails are very good, you must try one
Pint: Budweiser. After working in the St Louis, Missouri brewery for six years, the drink has become a spiritual part of my life
Alcohol decline
In supermarkets too, Perkins is attempting to steer Budweiser through what was branded "a perfect storm with no end in sight", by data insights provider IRI. "High food and energy prices, record interest rate rises, and anaemic wage growth" caused European alcohol sales to fall 4% in 2022 – a total loss of £2.4bn – to below pre-pandemic levels, IRI said. By contrast, low & no value sales were up 4% over the same period.
Perkins doesn't entirely sign up to IRI's assessment. "People are drinking about the same volume of beer," he insists. "But they're also choosing nicer and nicer beers." Perkins feels he has a "treasure chest" of brands spanning from Beck's and Budweiser all the way through to Leffe, which he can use to keep up with the trend of premiumisation.
'The rhetoric around craft is bigger than the sales'
Leffe, for example, recently got a big boost of funding after "quietly sitting on a shelf for years, without a lot of focus on it". Stella Artois also got an upgrade last year with the launch of Stella Unfiltered, which sells at around £1/litre more than its original counterpart.
And what of craft beers, a darling of the brewing industry in recent years which now so often seem to dominate supermarket aisles? Perkins is less enthused. "Craft has been very healthy for the beer industry because it has brought a lot of interest, conversation and storytelling to beer that beer had failed to generate itself," he says. "But the rhetoric around craft is bigger than the sales. It's still relatively small in terms of total beer consumption."
The bigger focus is on keeping all those premium options affordable. That's no small task, with Budweiser facing huge cost inflation primarily through rising glass and grain price. They have pushed its two biggest sellers, Budweiser and Stella, up in price by 11% and 8.8% respectively in the past year, according to The Grocer's analysis of Assosia data, compared with an industry average of 9.3%.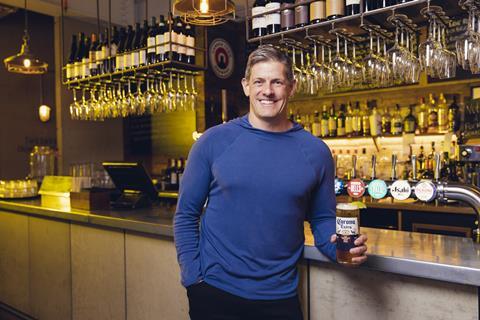 Taxing situation
Perkins also laments the UK's tax system for punishing the pockets of beer drinkers. "Duty rates in the UK are 10 times higher than in continental Europe or the US and consumers are footing the bill," he said. "Sustainability and packaging taxes are also poorly conceived, full of errors and ultimately add cost to the consumer… we don't mind taxes, but we want them to be efficient and not become a deterrent in the economy, threatening both jobs and growth."
When talking deterrents to growth though, there can be none greater than a ban on selling your product. Yet that was exactly what happened to Budweiser at last year's World Cup in Qatar. Budweiser has been the official sponsor of the World Cup since 1986, only this time officials made a last minute u-turn and decided no alcohol was to be sold around stadiums before and after games. It was a dry tournament in the Middle East.
'Beer is a fundamental part of the spectator experience'
Naturally, Budweiser had made preparations to sell its beer during the biggest global sporting event of the year and summed up its disquiet about the ban with a now-deleted Tweet: "Well, this is awkward…"
Budweiser was forced to tear up its game plan and lean into the media attention that the alcohol ban fuelled. In the end, Perkins says, the booze ban was like a research exercise in deprivation marketing to examine how people respond without a certain thing in their lives. In this case it was beer-free football, and the hypothesis it would be worse was proved.
"Ecuadorian supporters even invented a chant saying 'we want beer', and this is when I feel very lucky. Beer is a fundamental part of the spectator experience," Perkins says. "People love beer. I can't remember the last time anyone made a chant about toothpaste or toilet roll."