Chris Forbes and his wife Julie Chen founded The Cheeky Panda in 2016. Since then, sales of their bamboo paper products have shot up. Now they're expanding, disrupting and hoping to float
Don't let the fluffy panda hat, cute logo or general air of silliness that surrounds Chris Forbes fool you: the Cheeky Panda founder is seriously ambitious.
Since launching in 2016, his eco-friendly bamboo paper brand has gained a legion of devoted followers, taking it to a projected turnover of £12m. Forbes is now set on taking the Cheeky Panda public. He's working with KPMG on plans to either float on AIM next year, or embark on a private funding round followed by a much bigger float on the LSE in 2023 or 2024.
It's certainly come a long way since Forbes initially discussed the concept with Julie Chen, his partner and Cheeky Panda CEO. "Julie got talking about the idea of using bamboo [to make toilet roll]," he recalls. "I said: 'Why would you use bamboo?' and she said, 'Well, it's the world's fastest-growing plant – it grows 30 times faster than trees'."
Forbes was amazed such a simple idea hadn't yet taken off. So, after some pilot testing at home, the couple took a trip to China – where bamboo paper had already been adopted – to check out the production facilities. What they saw solidified their plans. "Our trip from the airport to our factory took about five hours and the whole way there was just bamboo. We thought, we're not going to run out of this stuff in a hurry!"
The pair had a clear USP. But they also had a challenge on their hands: the market was dominated by big, established brands like Andrex and Cushelle. By contrast, neither Forbes nor Chen had any prior experience in the area. In some ways, Forbes suggests that gave them an edge.
"When you come in from a completely different lens, you're quite fearless," he explains. On the flipside, "once you've been in a sector for 20 years, you almost conform to what that sector does."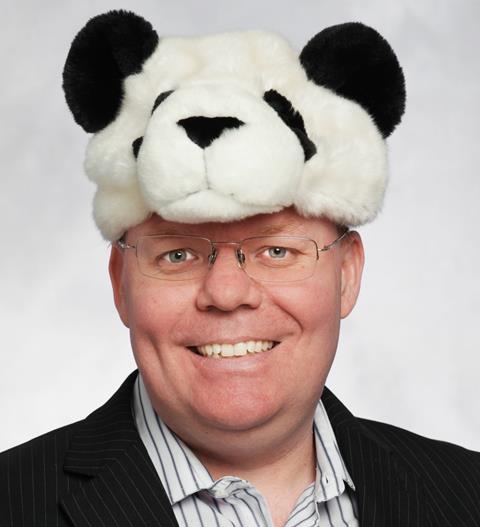 This fearlessness inspired the pair to mount a crowdfunding push, which overfunded its £10k target within a couple of weeks. Soon, the Cheeky Panda transformed from a side venture for Forbes and Chen, who managed to keep their respective businesses running simultaneously, into a full-time project. Chen closed her business and Forbes sold his, using the proceeds to further scale up the brand.
The next step was to take on staff. "In the first year, Julie was doing all the operations and order fulfilment herself. We realised we couldn't manage with just two people and we had some angel investment… that helped us start to build a small team."
The growth figures suggest that investment has paid off. In 2017, sales stood at just £100k. By 2020, that figure had grown to £5.7m – and this year, the brand is on track to reach £12m.
The panic buying of the first lockdown – which saw toilet roll, in particular, fly off the shelves – helped to buoy those latest figures. Forbes says fulfilling demand involved "a lot of long hours, a lot of problem-solving and scale". "It probably accelerated our business by about a year," he says.
But as Forbes suggests, the business would have reached that point anyway. That's largely down to its success in gaining major listings.
Having started out as a primarily DTC operation, the Cheeky Panda has been busy making its way into the likes of Ocado, Amazon, Tesco and Boots. Today, DTC only accounts for 10% of sales, while online and physical retail make up 70%.
And its footprint is constantly growing. Most recently, the Cheeky Panda secured space in Waitrose for its multipack loo rolls, flat box tissues and Handy Wipes.
Age: 45
Born: Perth, Scotland (not Australia!)
Lives: Kent
Family: Julie and our three-year-old, Leo
Career summary: Executive turned eco-entrepreneur
Best business advice I ever received: Don't be afraid to shoot for the moon. If you get halfway there, you're still in space. And if you execute well enough, you'll go past it.
And the worst: People don't want bamboo tissue – it will never work!
Hobbies: Chess, tennis, cycling
Favourite book: The Alchemist by Paulo Coelho
Favourite film: Star Wars: A New Hope (Episode IV)
Eco-friendly hack: Always carry a refillable water bottle
Pushing innovation
Innovation has been another crucial part of the brand's success. Having started out in toilet roll, Forbes and Chen have brought out a steady stream of NPD across the household, babycare and beauty categories.
First came the bamboo kitchen roll and facial tissues. Then came bamboo nappies and biodegradable wipes, inspired by the birth of Forbes and Chen's son Leo three years ago. Just six months ago, the brand ventured into plastic-free makeup wipes. Already they're proving popular. "On Amazon, we're outselling Simple, which is the largest beauty brand in the UK," says Forbes.
Even more recently, the Cheeky Panda launched its bamboo straws, which are superior to paper ones as they don't go soggy, says Forbes.
"Because bamboo fibres are slightly longer and rounder, it's actually a sturdier straw, so it increases your milkshake experience three-fold," he claims. The sales are a good indicator he might be right. Last month, a whopping 4.5 million – or around 16 palettes of straws – were sold within 24 hours.
So Forbes feels now is the right time to float. For him, that's preferable to being snapped up by one of the paper giants. "We don't want to be acquired by KC [Kimberly-Clark] or one of the other big paper companies, because we'll just become a small part of their empire," says Forbes.
"We'd rather try and stand on our own two feet and be a 21st-century version of those companies, doing things in a more sustainable way."
For him, the sustainable ethos of the Cheeky Panda gives it an edge. "If the FTSE 250 has companies for whom sustainability and greenness is at their core, then we'll have a green economy and that's something we can all strive towards," he says.
"We can be pioneers and be one of the first pureplay green companies to get to market and that's something we know people want."