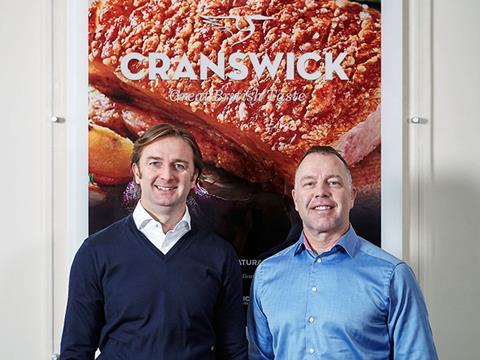 What do you do when you're a self-confessed meat industry lifer and the sector you've grown up in is facing some of the most challenging disruption in decades?

For Adam Couch and Jim Brisby the answer is: up your game - and keep a very keen eye on opportunities.

The CEO and commercial director of Cranswick (both of whom joined Cranswick as graduates back in the early 1990s) are frank in their assessment of the scale of the challenge faced by the meat sector today. Consumer trust has been rocked by a spate of scandals, while a new generation of meat alternatives are aggressively courting health and sustainability-conscious shoppers.
Snapshot
Name: Jim Brisby
Job: Commercial director
Age: 43
Status: Married with a boy and a girl
Education: Management science degree from UMIST, Manchester
Career: Joined in 1995. Developed Cranswick's gourmet sausage business as a JV with Simply Sausages of London. Appointed to Cranswick board in 2010.
Interests: Surfing and mountain biking
Name: Adam Couch
Job: CEO
Age: 49
Status: Married with two boys
Education: Accounting degree from University of Hull
Career: Joined in 1991, originally on the fresh pork operational side. Appointed to the board in 2003. Took over as COO in 2011 and CEO in 2012.
Interests: Rugby and cycling
Many consumers now "fundamentally question the nature of our food system", says Couch. The meat industry and companies like Cranswick can't afford to be complacent.

So how exactly does Cranswick propose to rise to the challenge - and what in particular does it plan to do in response to the meat alternatives trend?

The rise of plant-based and other meat alternatives presents an interesting challenge to meat companies. Do they position themselves firmly against it and defend the health and sustainability credentials of meat - or do they dip their toes in the alternatives market to hedge against disruption?

Major international meat giants like the US's Tyson Foods and Germany's PHW Group have recently made headlines with eye-catching investments in meat disruptors such as Beyond Meat, Impossible Foods and, most recently, Israel-based biotech startup SuperMeat, which is developing cultured poultrymeat and this week scored a $2.2m funding injection led by Tyson, among others.

Is Cranswick tempted at all to follow their lead? Brisby is clear there are no immediate plans for investing in meat alternatives, but it's obvious the company is studying the market closely - and won't rule out an investment at some point in the future. "Plant-based meat alternatives are definitely on our radar, and we've seen some really good innovation recently," he adds.

"We would define ourselves broadly as a protein business, so within the scope of our long-term thought processes we would always respond to how customers are shopping and eating."

Couch echoes this. "I certainly wouldn't be dismissive of it," he says. "In fact, we already do flexitarian-style products in some of our operations with ingredients such as olives and peppers."

Another area of interest is insect protein, which Couch says promises lots of potential on the feed side.

Having said this, a more substantial move into the alternative protein space would have to be a unique and compelling proposition for Cranswick, Brisby stresses. There wouldn't be any point in the business doing a "me too". It would have to add value - and be more than a flash in the pan.

"If we were to become more involved in any of these areas, we would have to become convinced it was a long-term movement and not a fad," he adds.
A strong case for meat
And while plant-based eating has been getting lots of media (and retailer) attention of late, Couch and Brisby are both confident consumers aren't about to fall out of love with meat on a mass scale.

"The fact they call it a meat alternative shows that people like meat," adds Couch. "Be it a soy sausage or a vegan burger, there is still that association with meat."

At the same time, meat alternatives face their own reputational challenges, he adds. "A lot of these products are also heavily processed, and that's something a lot of people may miss," Couch says. "What goes into some of them is quite extraordinary, and there are also questions about sustainability and food miles."

If consumers become more aware of the sustainability footprint of some alternatives, it could open up an opportunity for meat producers to push back against the rise of veganism. However, that's only going to work if the meat industry can put forward a compelling case - and dispel some of the clouds that are currently hanging over the sector.

Brisby and Couch say it's clear work needs to be done, but they're confident the meat industry can make a strong case for its products as well as its health and sustainability credentials, if it's prepared to open up a bit more.
Radical transparency
That is precisely why Cranswick recently published a major report mapping out what radical transparency and openness in the meat sector could look like.

Commissioned long before the high-profile scandals involving 2 Sisters and Russell Hume even hit the headlines, the report argues that as demand for food provenance grows, the food industry must be able to demonstrate greater accountability across the entire farm to fork supply chain. Meat suppliers will need to give added assurances on hygiene, safety, ethics and sustainability standards as transparency becomes an ever-increasing critical issue, it suggests.

In particular, younger consumers have very different expectations of how food companies should behave, says Brisby. Although already focused on traceability and sustainability, Cranswick felt it had to evolve further in order to meet changing consumer needs.

This extends to working with AHDB to develop new DNA traceability systems and adopting blockchain technology, which will allow customers and consumers to trace the entire journey of a particular cut of meat, from the farm to the supermarket shelf.

Cranswick has also made recent commitments to eliminate food waste by 2030 and to switch its energy supply to renewable sources, while it was one of 41 major food businesses to commit to Wrap's Plastic Pact announced last week.

This kind of transparency also plays well in export markets, particularly as Cranswick and the rest of the UK meat sector prepare for Brexit, Brisby adds. "People want much more information now about the food they consume than they have probably ever done," he adds.

Both he and Couch now hope their report can become a de facto blueprint for how the meat industry can rebuild trust and make a case for its products in the future.

However, they also stress recent bad publicity for the meat sector shouldn't be overplayed. As "unwelcome as it may have been" much of the recent bad publicity engulfing the sector has concerned practises at "the very periphery" of the supply chain, with the vast majority of meat "produced in very good and well invested facilities" says Couch.

There is already a great story to tell about UK meat, suggests Brisby, and embracing new sustainability, traceability and transparency measures will help the entire sector make that story even more compelling.

"There is a demand for greater understanding of how food gets to market," he says. "This is how we now run the business. It's all about using less inputs and becoming more efficient."