Henry Dimbleby shaped government policy with his review of the food system. The Leon co-founder talks next steps – and the trouble with Percy Pig
You led a review of Britain's food system on behalf of the government. So did the obesity strategy really take you by surprise? Well, I knew they were working on it and what was in consideration, but I didn't know until last week that two of the things I had recommended [the HFSS watershed and ban on HFSS promotions] were in there. I'm not claiming credit for it by the way, it was simultaneous.
It begs the obvious question – how close are you to Boris Johnson? I haven't worked with him since I was at the Daily Telegraph, when we were both journalists. This review was cross-government, so we have been working very closely with all departments, and the team at number 10 were aware of what I was recommending. But I'm an independent reviewer, I'm not a political creature in that sense.
You were a Michael Gove appointment. Is he still involved or has George Eustice taken over now? George Eustice is great and takes a close interest. Michael Gove is interested in his cabinet office responsibilities, he's very serious about equality and opportunity and recognizes this is an essential element of that. But it is an independent report and they respect that.
You accuse the food industry of "rampant" use of misleading labelling. Do you really think it is widespread in supermarkets? I'm not sure it's the supermarkets – it's mostly the producers. I have hardened my views on this. When I came in people were talking about how we can self-regulate and talking about removing sugar. I am generally, and have been in the past, pretty resistant to government intervention as an entrepreneur. Yet when we started talking about these issues, people almost didn't take it seriously. I spoke at the IGD and used the Percy Pig example, and people were saying, 'Why are you picking on M&S?'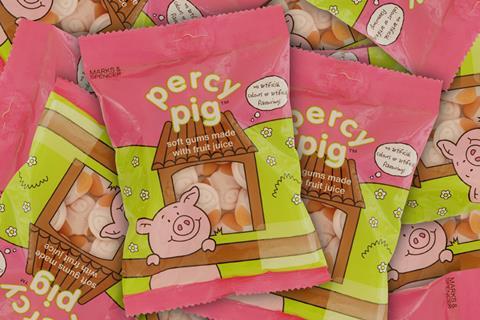 So why did you focus so much on Percy Pig and the use of its 'natural' labelling? I don't think M&S is particularly bad, but I chose Percy Pigs because if they're doing it, it shows how rampant the practice is. And when I spoke to Roger Whiteside at Greggs, Mike Coupe at Sainsbury's and Dave Lewis at Tesco, there is an admission this is something they can't do alone. Because if they do it alone, someone else will sell the bad stuff.
So they need regulation, but I think it needs to be careful regulation. The obesity strategy was stuff that was almost universally welcomed. I'm going to spend quite a lot longer on part two of my report, almost creating a contract between citizens and government about what form any increased regulation might take. I'm pretty clear there are some things people will never want, like plain packaging on sweets, but I want to find out what they would accept.
It sounds a mammoth task. How will you gauge public opinion? You need to literally recruit people in the street by knocking on doors, ringing them up. Because if you say come along, then you get a whole bunch of food campaigners.
We started doing a bit of this – we did dialogues with groups of 40 in places like Grimsby, Norwich, Lewisham and Bristol – and it's really interesting when you get people from different backgrounds. When you get a farmer talking to someone who's suffered from food poverty, you get some really interesting discussions. I think we'll get some powerful recommendations.
Considering your background with Leon, do you think you've concentrated too much on grocery and not enough on the out-of-home sector? We don't really have an out-of-home sector at the moment, and I was trying to address mostly Covid-related things. But I do accept 20%-25% of our calories come from out of home. In part two, I will be aware it is slightly like a balloon. If you squeeze just the grocers, if you're not careful you'll just see the bad stuff happening elsewhere. I am very aware as someone who works in hospitality that we are not squeaky clean.
How do you compare with Jamie Oliver, who became something of a resented figure with his constant attacks on the industry and calls for taxes? For a start, everyone knows who Jamie is. He is a massive global megastar and global megastars get flak, right? In any case popularity is not my goal. I really try to present arguments from both sides. I do hope when people read my report carefully they will find it hard to disagree. Somebody texted me this morning to say they changed their mind on the advertising ban because of my report.
How do you respond to criticism of the HFSS watershed? I'm absolutely convinced the watershed won't lead to the collapse of advertising. People will advertise other things, they'll reformulate. But people will have to eat less of things like crisps, we will have to adapt and the market will change if we want to reverse this slow motion disaster of obesity.
You're commissioning work on taxes. What form will that take? I want to get somewhere like the Institute for Fiscal Studies to do it because it's complicated. On balance the sugar tax has been fantastic: it has led to reformulation and 45,000 tonnes of sugar coming out of our diets. It is the case that the least affluent are still drinking more of the high-sugar stuff, the branded stuff, full fat coke, so it hasn't been perfect, but I think it is a strong potential lever for reformulation.
Clearly you can see how you might extend it to salt, or even fat. But in a way, we were quite lucky not to get unintended consequences from the sugar tax and I want to make sure we don't get that if we extend it to other products.
Has the government gone cold on taxes, or just temporarily because of the economic climate? I would have thought taxes might be quite attractive with the economic situation. But actually what you saw with the sugar tax, because it worked so well, it actually didn't bring in that much revenue. The tax is kind of irrelevant – it's changed the way people make money.
The Efra committee claims the government was very slow to react to Covid and it was left to industry to fill the vacuum. Do you agree? Clearly I'm very conflicted and I've actually been doing other work behind the scenes related to hospitality. The government has done a lot to try to help, but things like the rent tsunami to come means this is going to go on for a year or more.
Is your call for more parliamentary scrutiny of trade deals really likely with this government? If they can change their perspective to see it's not about catching them out, it's about being confident in a newly sovereign trading nation.
Snapshot
Name: Henry Dimbleby
Age: 50
Marital status: Married
Potted CV: Chef, journalist, strategic management consultant, fast food, street markets, Sustainable Restaurant Association, Chefs in Schools, School Food Plan, National Food Strategy, lead non-exec at Defra.
Best career decision: Marrying my wife, who edits everything I write.
Worst career decision: Putting Swedish flatbreads on the breakfast menu at Leon.
Career highlight: Successfully campaigning for universal free school meals for infants.
Best piece of advice you've received: How you do one thing is how you do everything.
Business mantra: No, you f**k off. (It's a long story.)
Hobbies: Sailing, cooking.
Favourite meal: Arroz negro followed by sgroppinos at the Seahorse, Dartmouth with my friends.
Currently reading: English Pastoral by James Rebanks.
Favourite film: Vertigo


Ian covers Tesco, Asda and Morrisons among the major retailers. He's also our go-to guy for all issues related to health, high street and public affairs.