Highland Spring's joint MD has coped with Covid sales slumps, sustainability concerns and supply issues. But he's feeling optimistic about the brand
It's a tricky question to ask a bottled water giant. In the wake of COP26, and a growing awareness of plastic pollution, is time up for the category? Is the move to refillable water bottles inevitable?
Taking the reins at Highland Spring in August, Simon Oldham is having none of it. "We're not selling packaging, we're selling the product," stresses the joint MD. "Natural source water, as we refer to it, is something people buy because they like the taste, they trust the product and the brands. It's a preference; they prefer it over tap and that's why they buy it in the same way that people might buy barista coffee over an instant coffee."
Sustainability has almost been the least of Highland's problems. In the initial throes of the pandemic – when Oldham was in his former role as chief commercial officer – on-the-go sales fell off a cliff, hitting bottled water hard. Highland Spring was one of the biggest casualties, haemorrhaging £36.9m in value on volumes down 25.6% [Nielsen 52 w/e 30 January 2021].
"There's no doubt during the depths of Covid, the focus was on surviving," says Oldham. "We were having to review things on a daily basis because things were changing so quickly. So, trying to understand how the regulations are changing, how consumer behaviours were changing, how the shape of the industry was changing… we were having to adapt every day."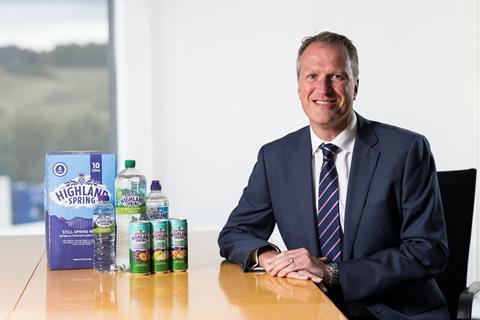 Even as restrictions eased this summer, new challenges reared their head. Supermarkets were hit by a shortage of bottled water amid surging demand, production issues and the ongoing shortage of hauliers. Highland Spring CEO Les Montgomery last month told The Grocer logistics challenges associated with the driver crisis had resulted in a "modest downturn of sales".
To make matters worse, the business was forced to recall up to 130,000 glass sparkling water bottles in August, following reports of the product exploding.
"Bottled water isn't going anywhere"
Against these headwinds, communication has been key. "We have tried to over-communicate and if you were to ask our customers, they would agree."
Thankfully, the situation today is looking far more stable. The bottled water category has "rebounded really strongly", says Oldham. Indeed, recent figures look more positive, with total sales up 6.5% in value, and Highland Spring down a far less worrying 3.1% [Nielsen 52 w/e 11 September 2021].
"There is still more take-home consumption than there was, but front-of-store on-the-go has really bounced back now and that's been a really reassuring thing to see," he says.
Name: Simon Oldham
Age: 49
Born: Leicester
Family: I've been married to my wife Gillian for 17 years, and we have two children, Jamie (14) and Katie (11).
Potted CV: I joined Proctor & Gamble straight out of university in 1995, where I spent nine years in a variety of sales, market strategy and planning, and commercial roles, ultimately leading the Iams UK PetFood sales division. I moved to Whyte & Mackay in 2004 as trading director. I was then made sales director in 2005, and finally UK MD. I then joined Highland Spring in 2010 as sales director, before being made commercial director and more recently CCO. I was made joint MD in August 2021.
Career highlight: When Highland Spring became the UK's biggest natural source water brand.
Best piece of advice received: Believe in yourself and don't be afraid to make mistakes.
Business idol: John Timpson
Hobbies: I like to golf and play tennis. I also love to travel, although I've not done much of it in the last 18 months!
How I relax: Spending time with the family, travelling or watching sport
Favourite film: Any of the Bourne films
Sustainability
This return to some form of normality is enabling Highland Spring to reflect on longer-term priorities. Sustainability, of course, is high up on the agenda. Like many fmcg brands, it has firmed up its carbon commitment. "We announced our plans to be net zero by 2040 and to reduce our emissions by 50% by 2030 – we'll be carbon neutral this year," Oldham says.
Some of this work is well underway. The business has moved to green energy, for example. And it is in the process of building a rail freight facility adjacent to its main bottling plant in Blackford. Once operational next year, the site "will enable us to put 40% of all our miles by rail as opposed to road", he says. "That removes the equivalent of about 8,000 trucks a year, or 2,700 miles, or 3,200 tonnes of CO2."
It's easy to be cynical about such claims, which are becoming increasingly prevalent in food and drink – and in bottled water, in particular. But Oldham stresses the brand's focus on sustainability is nothing new. In his decade at the company, he has seen real progress, he says. "Packaging clearly is one of the things that we've done a lot of work on in the last few years."
In 2018, Highland Spring beat rival Evian to become the first large bottled water brand to launch a 100% recycled plastic pack into UK grocery. It was also the first to trial a 100% recycled shrink wrap in December 2020. "Continuing that journey is a really big part of our focus and priorities for the short, medium and long term," he stresses.
Most recently, the brand rolled out a 10-litre 'hydration pack' in March, offering its "lowest ratio of packaging to water" to enable consumers to decant its water into reusable bottles. The NPD – launched just seven months after conception – shows how Highland Spring is becoming more agile, says Oldham.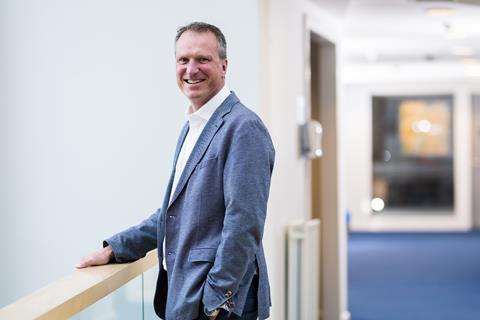 That said, the MD is keen to steer the conversation away from plastic and towards government policy. "A lot of the debate is about packaging, but I think we all have to recognise that the environmental debate is far, far bigger than that," he says. "We have to get the culture and the infrastructure in place so people automatically recycle. And I don't just mean bottles of water, I mean everything, which is why we've been such a big supporter of the deposit return scheme."
Oldham says Highland Spring has been "heavily involved from the outset" of Scotland's DRS, which will require a deposit of 20p for single-use containers. England, Wales and Northern Ireland won't see a DRS rollout until 2024 at the earliest, but Oldham is encouraged things are heading in the right direction.
"There is still more take-home consumption than there ever was, but front-of-store has really bounced back now"
The infrastructure will be crucial for getting consumers to "do their bit" for the environment, he says. "I would argue the most important thing they can do is ensure they recycle the products," Oldham argues. "Whether it's water or another category; whether it's PET, or aluminium, or glass, that's the biggest change."
The environment isn't the only focus for Highland Spring, though. Another priority is innovation. In spring, it unveiled a range of fruity sparkling water cans – mounting a challenge to the likes of Dash – and it's working on further NPD for the year ahead.
"One of our mantras is that we aim to be a big business, but not act like a big business," says Oldham. How it has adjusted to remote working is illustrative of this mantra, he says. "Embracing digital has been a real eye-opener. We were not the most progressive, technical company before in terms of our day-to-day interactions, so that's been life-changing."
What's more, the move away from five days in the office made the business "attractive to a far wider talent pool", luring candidates from Glasgow, Edinburgh and even further afield, says Oldham. "I don't think we'll ever go back to five days a week in the office. We're 45 to 50 minutes from Edinburgh, or Glasgow, but if you hit rush hour, you can double that. People don't want to be doing that every day."
Having survived so much upheaval, Oldham is optimistic about the challenges of the coming year. The brand's approach to communication this year has been pivotal, he says – and will continue. "Whether it was good news, or whether it's been more challenging news, we have been really open and transparent.
"What retailers need is information to plan. The best thing you can do as a supplier is be really honest about where you are." Having dealt with a global pandemic, supply issues and exploding bottles, that task can only get easier.