Amrit Singh is following in his father's footsteps – making H & Jodie's a true leader in innovation. But now Amrit is taking things one step further
Amrit Singh's desire for NPD is not random. It "runs in my blood", he says, as he dusts off a framed newspaper cutting.
'Shop Scoops Latest Hot Craze', runs a headline about his father Harjit in the local Express & Star newspaper in 2002. Back then, NPD looked very different. From Beyblades and Yoyos, to Yu-Gi-Oh cards, Singh Sr would "chase products up and down the country" to ensure he was plugged into the latest trends.
It's clearly rubbed off on his son. Which is hardly surprising, given he has been ensconced in convenience retailing since he was little more than a babe in arms.
"My whole life I've grown up in shops," Singh says. "When I was three or four years old I was sleeping behind the counter because my parents were here non-stop. I've had the full experience."
For the past seven years, Singh and his brother Pav have taken the reins on the H & Jodie's family business – an award-winning Nisa Local store in Walsall – while their parents semi-retired.
"There's no promotion or amount of money that's going to give you a better feeling than allowing your parents to retire and giving them a break," he says. "We are where we are because of them." His father has still kept a foot in the door, at least when it comes to setting up community initiatives. From hosting a Citizens Advice Bureau bus outside the store during the pandemic – which won Community Initiative of the Year at The Convenience Awards 2022 – to selling hot water bottles for 99p to help shoppers fight rising energy costs, the family business has become a community hub.
"I'm fortunate that I've got my family to work with, so any challenges we face get shared," says Amrit.
It's that family support that has allowed Singh to pursue his interest in NPD. And it was in lockdown that he began to re-ignite his father's "NPD flame".
He got the ball rolling with PS5s, kegs, and draught beer machines, as the closure of pubs, restaurants and high street shops spurred the nation to find new means of entertainment at home.
Name: Amrit Singh
Age: 28
Proudest moment as a retailer: Being able to allow my parents to retire early
Most awkward encounter with a customer: A customer dressed up as clown made me jump, so I hid behind my dad
Best way to motivate staff: Lead by example
Least favourite duty: Managing the store during the school rush
What I'm doing when not working: Reading Marcus Aurelius' Meditations books
Worst advice received: Go to university
Favourite drink: Indian tea
Favourite meal: Anything my mum makes
If I could be in a movie, I'd play: James Bond
All-time hero: Floyd Mayweather
Using social media to advertise his store and the NPD he stocked,it was "Instagram-ability, Snapchat-ability, and TikTok-ability" Singh looked for. "You want products that have the FOMO factor," he says. "Do they make someone else feel that they're missing out if they don't have it?"
By January 2022, H & Jodie's was stocking the likes of Dr Pepper Cotton Candy, Keebler M&M's Cookies and Candy Pop Snickers Popcorn. More recently the store was even recognised by YouTuber TheBurntChip as the first UK stockist for MrBeast chocolate bars.
Building a US network
But that wasn't just by chance. Singh was starting to build a strong network of US wholesalers and suppliers.
"The harder you work, the luckier you get. And if I'm calling suppliers non-stop then one door will open," he says. "But we've also got very straight relationships. We pay upfront, we want stock fast, and we don't mess anyone around. That establishes trust."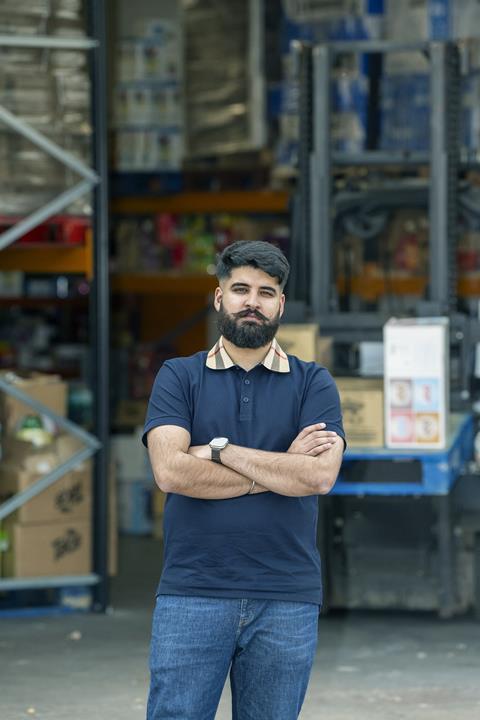 As a result Singh says he also gets "first dibs" on a lot of NPD. "They're often in a position when they don't know if it will work, but because we deal with new products so much, we've got the expertise and the store to trial it."
Attracting customers from cities including Edinburgh, Southampton and Norwich the trick is how to maintain that reputation.
"To create an NPD product, you need to control how much of it there is to really build the hype," says Singh.
"If you flood the market, then the scarcity element has gone. That's why I will purposely buy everything the supplier has got – so I'm the only one with it."
In February Singh moved into wholesale. "I've got an expansive retail network, regardless of doing wholesale or not," he says. "When they see what I'm doing, they will always message me saying 'send me some of this' or 'send me some of that', but I never had the stock to give them. I was only buying for me."
His online ordering platform stocked up to 20 key lines comprising "the best NPD", including Jolly Rancher sweets and Nitro Pepsi cola. Suppliers sent the stock directly to the warehouse which, at the time, was attached to the back of his store. A team of pickers would manage orders from there while Singh organised distribution using a variety of logistics partners. "It was a natural progression to push this into the wholesale channel, because it would allow us to buy more and sell more," says Singh.
But it was a short-lived venture. Singh was getting weighed down with the "headaches" around getting US labelling and ingredients approved in the UK.
"American NPD is a minefield," he says. That said, it will be something he comes back to: "I'm not going to start something and not finish it." He plans to relaunch wholesale next month with a new website and will offer retailers next-day delivery and 30% to 50% margins. He'll have an [admin] team in place to support it, too. "I will have two people dedicated to sorting invoices and legislative requirements to make the products UK approved. I've got a reputation to protect, so I'm going to do it properly."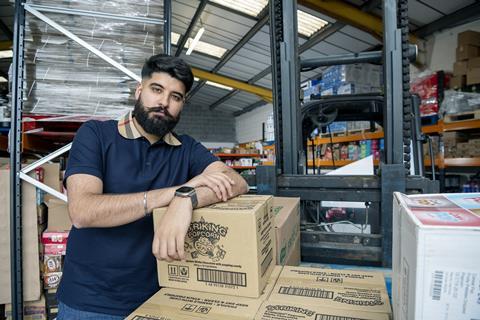 Exporting to
In the meantime he's turned to exports. In April, Singh started sending US NPD and viral TikTok products from China to other international markets, including Dubai, Germany, Israel, Slovakia and Switzerland.
That's because he could avoid the complexities around UK approvals: "It's easier, faster, better paid, and I can move larger amounts of goods."
Singh revels in volume. "I love seeing a forklift battery die because it's just working so hard and the sense of moving lorries worth of stock."
The added bonus with exporting is the ability to stay on trends longer. "NPD is a double-edged sword," says Singh. "If you get in at the right time you can make a fortune, if you go in at the wrong time, you can lose a lot of money. But when you're dealing worldwide, the trend is just picking up somewhere else, so you'll always be able to move stock."
With orders now taken from over 500 international wholesalers, and operating from a 5,000 sq ft warehouse in Walsall, the multi-million pound business has big ambitions, with the UK his priority. "My dream is to obtain exclusive UK licences of distribution so that I am the route to market for all major NPD.
"We know which wholesalers to work with, we know which retailers to sell the goods to, so we can get the products in the right places and create the hype that the products deserve," he says.
But as 600 UK c-stores await his wholesale relaunch, his ambitions don't end there. "Once I've formally cemented myself in the UK, I can grow and get exclusive licences for EU and UAE distribution. I've already got the customers in those countries and the transport and logistical network already in place. I am the perfect person for it.
"We're not going to take part in the NPD space, we're going to take over."