The 'grotesque' and 'stupid' injustices in trade can't continue, says Fairtrade CEO Michael Gidney. He is determined to take his ethical vision to the masses
Michael Gidney isn't one to mince words. "It's a grotesque injustice but it's also a really stupid business failure," argues the Fairtrade CEO. The subject of his ire is the trading price of coffee, which has hit a 14-year low. As he sees it, traders are determining the price in London and New York with little consideration for the farmers on the receiving end.

"Farmers are earning as little as a dollar per pound of coffee, which is way below the cost of sustainable production," he says. If growers can't afford to invest in sustainable practices, the entire future of coffee production is under threat. "Things don't need to be this way," he stresses, tapping the table for emphasis.

This clear passion for justice began when Gidney travelled to Kenya after university. "This was back in the 1980s, the Live Aid generation, and the narrative was of Africa almost as a victim," he recalls. "What was really fascinating to me - it's really obvious now, but it was an eye-opener - was just how much entrepreneurship there is. So I saw a huge amount of energy and it really opened my eyes to what you could do if you enabled people to trade their way out of poverty."
"If growers can't afford to invest in sustainable practices, the entire future of coffee production is under threat"
A series of charity roles followed, "always in international development", before he landed a job as director of policy at Traidcraft in 2001. After eight years, Gidney made the move to Fairtrade. Starting out as deputy executive director, he took the top job three years later.

As CEO, his focus has been on practical improvements. When he started, the team was struggling to keep up with the level of growth Fairtrade had experienced in the early 2000s. "So we spent a bit of time locking in the team and hiring and upskilling."

At the same time, Gidney wanted to push Fairtrade to do more. "When I started, it was basically, 'If you have a product that meets our standards, you can have our mark'. That's incredibly important and still the lion's share of what we do, but increasingly you can see how certification should only be the beginning.

"These are minimum standards," he says. "So once you've identified problems in your supply chain, how are you going to improve? What does continual improvement look like?"

Gidney reels off a list of brands that have gone beyond the minimum. There's ethical chocolate brand Tony's Chocolonely, which is "focused on driving more value to farmers per tonne of cocoa". Cafédirect is looking to "raise the bar" and get more women reaping the rewards of coffee production. Then there's Ben & Jerry's, which has "a range of projects" to boost biodiversity and help farmers adapt to climate change. All of which is encouraged by Fairtrade taking a broader view on ethical trading. This year's Fairtrade Fortnight, currently running until 8 March, is focusing on how to improve gender equality in cocoa farming, for example.

For Gidney, this all comes back to his desire to have a tangible impact. "I really want to see what we can do and I want to be able to prove that to commercial partners and the British public. It feels like a duty of care to be able to prove concepts and prove impact."
Scaling up Fairtrade­
Of course, Fairtrade has achieved a fair amount since its first products launched in the UK in 1994. Its 25th anniversary, marked in October, gave Gidney a chance to take stock of how far the organisation has come. "The British public has really taken Fairtrade to their hearts. Ninety-three per cent recognise the mark, which is really extraordinary," he says. "And the thing that matters most to me is that 80% of people trust Fairtrade. That is an extraordinary asset for us."

Now Gidney is looking ahead to the next 25 years. That brings him back to the coffee farmers. He wants to take its standards - crucially, these stipulate a minimum price - to more growers like these. "We need to tackle the unevenness of value distribution, which actually doesn't work in anyone's favour," he says.

That means scaling up. "Fairtrade is still very small," Gidney admits. "We have very good public support and really committed companies but sales are still a fraction of global trade so we have a huge way to go. And we're ambitious.
"The thing that matters most to me is that 80% of people trust Fairtrade. That is an extraordinary asset for us"
One of the ways Gidney plans to grow is by highlighting an unsung benefit of Fairtrade: its environmental impact. "We've focused on the poverty angle because it's the most pressing and the most acute," he says. "But we haven't talked as much about the environmental side as we should do."

The coffee farmers are an example of how Fairtrade can drive change. Many are so poor that their only option is to "toxify their land with cheap agrochemicals". If they have a minimum income through Fairtrade, then - "surprise, surprise" - they start investing and making more sustainable choices.

"We hear brilliant stories about groups who are farming biodynamically," Gidney points out. "But it takes time and money to get there." Considering the environment has become "top of mind" for UK consumers, Gidney believes communicating this benefit could present a sizeable opportunity for Fairtrade.

Plus, as he points out, public feeling has never been more conducive to the concept of ethical trading. "The younger generation expects companies to have solved their social and environmental impact," he says. "And that for me is a wonderful turning point."
Conscious consumerism is making Fairtrade more mainstream too. Although it still overindexes with more affluent consumers, according to Kantar, that's gradually changing. "Greggs is a good example of how you can do this at all price points," says Gidney. "Its coffee, tea, bananas and orange juice are all Fairtrade."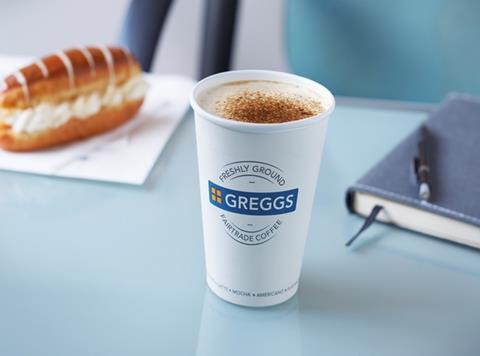 At the same time, the organisation has its fair share of rivals looking to push a similarly ethical message. The increasing number of alternative schemes saw Fairtrade's retail sales fall 1.4% to £797.6m last year [Kantar 52 w/e 7 October 2019]. The most notable hit to sales came from Mondelez, which last year added more brands to its Cocoa Life scheme, run in partnership with Fairtrade but ultimately a separate entity.

On this point, Gidney is philosophical. "The farmers are saying they want us to continue with Cocoa Life. For as long as the farmers want us to do it, we will do it," he says. His only word of caution on such schemes is that they need the involvement of an independent party such as Fairtrade. "No company should be marking their own homework," he says.

That may sound like a sneaky dig at Sainsbury's, which famously went its own way with Fairly Traded tea in 2017. But Gidney is at pains to stress it has a positive relationship with the retailer. "Sainsbury's has been really good at being true to their word," he says. "They said at the time that this was a pilot on tea and they would remain the largest Fairtrade retailer in the world. And they still are."

All in all, he's not overly concerned about rivals. Gidney is feeling "really good" about Fairtrade's upcoming annual figures, due to be released in April.

Ultimately, for Gidney, it comes down to one thing. "This is the time companies need to engage. Making a fast buck is no longer a valid way of trading."
Snapshot
Name: Michael Gidney
Age: 54
Family: Married with two children: a 21-year-old daughter and a 15-year-old son
Pets: Spaniel called Meg
Hobbies: Sailing, walking and reading
Potted CV: Worked in various charity roles before becoming director of policy at Traidcraft in 2001. Joined Fairtrade as deputy executive director in 2009 and was promoted to CEO in 2012
Best career decision: Heading off to Kenya after university. It was completely life-changing. Before that, I was going to be either a lawyer or a journalist.
Worst career decision: I don't think there have been any bad decisions but in a way I wish I had stayed overseas longer.
Favourite books: I did an English degree so I'm a big reader. There's a fantastic book called The Sugar Barons by Matthew Parker. If you ever want to understand the history of the sugar trade, it's incredible. There's also a wonderful book called Meridian by Alice Walker about the US civil rights movement.
Favourite films: Monty Python's Life of Brian is one of the best films ever. Another one is Star Wars. I watch it with my family all the time.