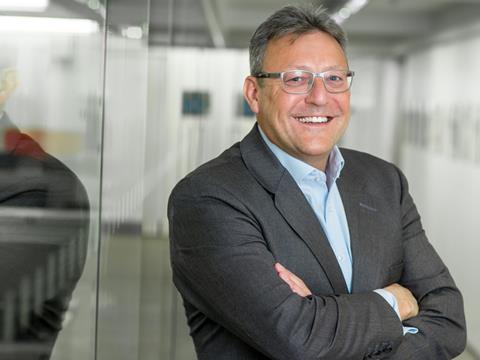 We've all imagined it. The winning National Lottery ticket clutched in trembling hands, dreams of private jets, mega yachts and sports cars queued up in the driveway close enough to touch. It's why the news in 2015 that our - already futile - chances of walking away with the jackpot had been worsened from one in 14 million to one in 45 million, went down like a lead balloon.
Snapshot
Age : 51
Family : Married, three children
Potted CV : Started working in Crewe station's signal box at 16, making tea and cleaning the signal box before working at British Rail for 12 years. Qualified as an accountant in 1995 before spells in the automotive industry and at Black & Decker, joining Camelot as financial controller 20 years ago, where he's held various roles since.
Business ethos : Work hard, rewards follow. The most important thing is consistency.
Career high : It's now, I'd say. It certainly wouldn't be the signal box.
Learning curve : You learn continually. Try not to live by highs and lows, but consistently. It's all good.
Business idol : Adam Crozier. He was on our board a few years ago and I have always admired him.
Great advice : I've always tried to treat people fairly. I went from a signal box at 16 to a pretty senior position with British Rail in only five years. I was in charge of people much older than me really early on and that taught me to respect everyone.
Hobbies : I used to like fishing and golf and watching boxing. But I don't have time to do them any more as I have three young children.
Licence owner Camelot, which has run the National Lottery since its 1994 launch, tried furiously to put a positive spin on the news, citing bigger wins, more cash prizes and new raffles in addition to the 10 new balls lined up in the lottery machine. But still allegations of greed by a #ripoff lottery did the rounds.

Perhaps because it wasn't the first time the public felt Camelot had dropped the ball. The change to the odds on Lotto, its most popular draw-based game, came only two years after the price of a ticket had doubled to £2, with the cumulative effect a growing sense that the operator was prioritising profits over philanthropy.

The result was falling sales, down 8.8% to £6.9bn in 2016, and a Public Accounts Committee inquiry set up in 2017 to investigate if the operator was making too much cash while charities were receiving less. A formidable environment for any new CEO to walk into, then.

But Nigel Railton insists he didn't hesitate when offered the permanent role in November, after stepping in on an interim basis from May. "I didn't really find it daunting. I'd been CFO for 12 years, operations director and strategy director - I understood the business pretty well. You come back and have hypotheses of what might be the issues we need to face into. I had a view. And most of those were right."

From the outside looking in those issues look pretty clear. Damage was done by the changes to both the price and later the odds, surely? "Well, it's important to go back to 2013 when the first change was put through for the Lotto price increase. We hadn't changed for about 20 years and the Lotto game was in 8% compound decline so doing nothing was not an option.

"It's like any product. You've got to innovate, you've got to change, and there aren't that many levers you can pull - you can change the price, the matrix, or the amount of times you do the draw. So I think changing the price was absolutely the right thing to do at that point." Similarly he insists "changing the matrix in 2015 was done for all the right reasons," while admitting "it wasn't as successful as we wanted it to be, quite clearly".

Still he refutes the idea it pointed to an operator acting only in pursuit of profits. "That was never the reason we did anything. We get paid less than one pence in a pound, and make about £70m profit per year, with a turnover of £7bn and invest about £30m in capital, so there are much more profitable businesses than this one."

From its second licence period to its third, donations to good causes went up 30% - "on any measure that's a good performance" - with the criticism that profits had risen disproportionately failing to take account that "you're dealing with billions versus millions", Railton says. Over a 10-year period, profits had doubled to around £70m but sales had increased £2bn in the same timeframe, he points out. "It's an aligned incentive model. We're not apologising for a profit increase: that was the idea. If you increase sales by £2bn you expect to make a bit more profit." Then there was tax, "something we don't control," which swallowed up 85% of an extra chunk of revenues too.

"We've been operating for 24 years this year, we've been in perpetual growth since 2003 for most years, and the sheer amount that's been raised is phenomenal. So Camelot is a long-term success story. Yes, we had a bit of a bump, but my job now is to put it right and that's what I've been asked to do."
Turnaround plan
Railton quickly commissioned a strategic review into the business, the results of which will shape a three-year turnaround plan. The crux of the problem, he says, is that players no longer associate the National Lottery strongly enough with the £38bn it has donated to 525,000 good causes since launch, which works out at around £30m per week. "That's the equivalent to a Children in Need every single week of the year." Even Railton, a 20-year veteran of the Camelot Group, was guilty of it. Taking his three children to swimming lessons at a local pool he began chatting to a stranger. "He said to me, 'you're that lottery guy aren't you?' - which is how people tend to address you when you work for Camelot - and asked if I knew the pool was lottery funded. It's a huge sports facility built for everyone but I didn't know. At that point I thought yes, we've lost that brand identity."

That's partly down to a huge decline in its public profile, he believes. Where once it occupied 90% share of voice in the lottery sector - "if you turned on the TV it'd be us" - last year it had plunged to 43%, with a low of 25% during August. Already he's set about putting that right, signing a one-year deal with ITV, which has seen more than five million tune into a 90-second results show. He's also reportedly brought in Adam & Eve, the agency behind the John Lewis ads, to take over marketing, and launched targeted campaigns around neglected games, such as Scratchcards.

Engaging despondent retailers will also be key to success, he believes, with satisfaction rates among the 47,000 selling National Lottery games dive-bombing in recent years. "The general feeling with independents is that we haven't been giving them a good enough service and I think that's fair. So we're addressing that."

As part of a commitment to invest up to £20m in retail over the next three years "we've doubled the size of the sales force in the last six months, recruiting 60 new sales [reps], and those people have been working effectively since April. So we've gone from an average of 2,000 visits per week, to 5,000 - I don't think many companies are doing that right now. But that's the right thing to do to get the coverage we need."

The group has also changed the time it takes to fix in-store terminals from 24 hours to four, is trialling how it could integrate into self-serve tills and is looking to sell in the discounters, too. It has also simplified its draw-based games into four "clearly differentiated" options, with EuroMillions, Lotto and Thunderball joined by a new annuity game set to be introduced in 2019 offering £10k per month for 30 years or life.

Though the vast bulk of sales go through retail, the operator has updated parts of its digital offer too, offering the 11 million players registered online touch ID on mobile and a simplified registration process, with plans to allow access to its instant win games via an app, as well as a browser.

But one thing Railton won't do is reverse the decision made in 2015 to alter the odds. "I've already been on record saying we're not going to change the matrix and we're not going to change the price.

"To change the matrix is too big a risk so we're not going to change it. We did research it, did months and months of research, and the headline was people didn't want any more change but what they do want is fairer distribution of prizes, they want to win the jackpot more often, and they want to bring more excitement back to the game. We don't expect things to move immediately but we think during the course of the year we'll get positivity back again. That's the idea."

After a tumultuous couple of years though, a pragmatic Railton is under no illusions all this work will ensure Camelot walks away with the licence again in 2023 - a process he expects to kick off next year. "No, I'm not confident we're going to win the competition," he says. "I think we have to earn the right as everyone else does. But I am confident that we will put our best foot forward.

"It's important what we do, it's really, really important. And that's a tremendous responsibility. So to think that we've stalled a bit means there's a lot of responsibility to get things back on track." And to be fair Railton doesn't look daunted at the prospect, even one little bit.