With his penchant for ironmans and other feats of endurance, Doug Gurr is a glutton for punishment. But it's the consumer's pain he's most focused on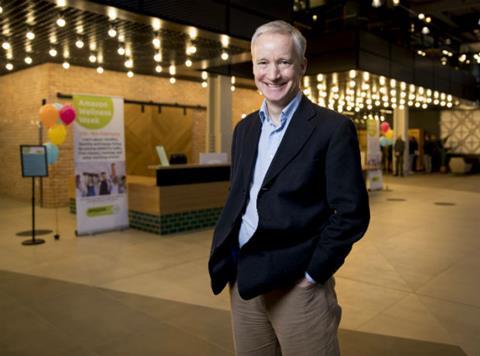 Amazon's new HQ in trendy Shoreditch has that retro industrial look. Lots of lightbulbs. Exposed brick and old-fashioned copper pipework (as art). Old cinema signs. There's even a wall of colourful doors painted by local artists.

It's right round the corner from the so-called Silicon Roundabout. The perfect place to attract new talent, as the online giant continues its rapid growth. Although even more important than location here is simply space.
Snapshot
Name: Doug Gurr
Job: Country manager, Amazon UK
Age: 53
Status: Married, son aged nine, daughter aged six
Education: BA and MMath in mathematics at King's College Cambridge, PhD in theoretical computer science at the University of Edinburgh
Career: University of Aarhus, Cambridge, lecturer in maths and computer science (1991-92); Department of Transport, principal (1992-1995); McKinsey, partner (1995 - 2001); Blueheath, founder & CEO (2001-2006); Asda, executive development director (2006-2011); Amazon, VP, UK Hardlines (2011-2014); country manager (president) Amazon China (2014-2016); country manager, Amazon UK (2016-)
Best business advice: Pay attention to your competitors but obsess about your customers
Biggest lesson learned: It goes back to my days running Blueheath, my first CEO job and first experience of grocery retail and wholesale. It was growing like crazy and we were constantly playing catch-up to get the organisation capability to keep up with the pace! I learnt two huge lessons. First, always ask yourself this question of any system, process or mechanism: will it scale? Second, hire for the long term - a huge determinate of success in any business is going to be your ability to get, grow and keep talented leaders.
Business hero: Jeff Bezos
Most used phrase: What could possibly go wrong?
Hobbies: I spend time trying (and failing) to hone my negotiation skills with my two kids. We get outdoors as often as we can - cycling, mountain running, ski mountaineering. I tinker with my collection of bicycles. I give time to three charities: the British Heart Foundation, the London Science Museum, and the Landmark Trust.
What was your latest download? Afraid (for my kids!) it was "Alexa shuffle Tom Lehrer"
Favourite movie: Casablanca
Favourite musician: Alison Krauss
Favourite cuisine: Yunnan - missing it hugely since leaving China!
Amazon needs lots of it. It's growing at an astonishing rate, expanding its UK distribution space by a whopping four million sq ft in 2017 [Savills], while the employee count was up by 5,000, with 24,000 full-time employees now in the UK, including 8,000 corporate roles. And though up-to-date UK sales and profit figures are not available, at a global level, boosted by phenomenal sales of its Alexa device (which was developed in the UK), sales were up 38% to $60.5bn in the final quarter, and profits soared 153% to $1.9bn.
Sales are soaring, of course. In case you didn't see Amazon's super-impressive 2017 results, revenues were up 38% to $60.5bn in the final quarter, and profits soared 153% to $1.9bn, boosted by phenomenal sales of its Alexa device (which was developed in the UK).
And as the 10-k document showed, the UK is accelerating with it. The 19% increase to $11.4bn last year is even more impressive when converted back into sterling, given exchange rate movements, growing 25% to £8.8bn, its fastest rate for six years. And even that might underestimate the growth in Amazon's gross sales, given the importance of third party sellers on its Marketplace.
Overseeing Amazon's UK operation is Doug Gurr, a softly spoken former university lecturer and civil servant, who has enjoyed a near 20-year career in the retail and wholesale sector. His first industry role was as CEO of Blueheath, a listed internet-based wholesaler. Gurr admits he struggled to cope with its exponential growth. (It was only with its acquisition by Booker that Blueheath's online platform came into its own.)

There's no such struggle now. In fact, an air of ineluctable progress permeates. With its championing of computer programming, machine learning, AI ("sortation", he says, "is generally better done in software than in hardware"), it's almost as if it runs itself, with the humans offering a helping hand once in a while.

So how has Gurr made a difference since returning to the UK from Amazon China 18 months ago? There are three main aspects to the role. He's responsible for Amazon's customer-facing services, supplying physical fulfilment services and digital delivery of video and e-books. A growing revenue stream also comes from Amazon's Web Services, a business that gives small businesses access to Amazon's technology. And he also runs Amazon's three R&D centres, in London (the HQ for its impressive video tech), Edinburgh (personalisation) and Cambridge (Alexa, Fire TV sticks, Kindles, drone testing, machine learning).

Moving to the Shoreditch HQ means Amazon can double its London R&D team from 400 to 950. And Gurr has no concerns about attracting talent in the wake of Brexit. "London is a fantastic place for talent, particularly digital talent. We run our fashion business from here, we have our photography business here. We are encouraged by the UK government and the EU commissioner in terms of treatment of EU nationals but we employ Brits, EU non-Brits, Americans, Chinese. To date, we've not seen any particular challenge."
Exports
Amazon is also doing the UK government quite a favour when it comes to exports. OK, so it doesn't pay much income tax, but UK sellers on Marketplace, its virtual portal, increased exports to £2.3bn last year, up from £1.8bn a year ago. "Sixty per cent of our sellers here sell throughout the world. Our job is just to glue those together. To connect buyers and sellers at both ends of the supply chain."

If Gurr makes it sound simple, that's the intention, but it's taken "a huge amount of energy to try to lean into how we support those small Marketplace sellers and how they get out into Europe and the rest of the world", hiding the complexities of tax and tariffs and cross-border regulation. As an example, Gurr cites the recent work to facilitate exports to his old stomping ground in China. Having developed the service for US businesses while he was there, the China Global Store opened in November 2016, and already "millions of British products" are being exported to the People's Republic "with no extra effort".

"We take British products from British sellers using British fulfilment centres, we translate them into Mandarin, put them on the website with a Union Jack, and create a new checkout experience, so all the regulatory complexity, shipment fees, taxes and duty are taken care of and submitted to China customs."

The effect of Marketplace, leveraging all that entrepreneurial energy, can be transformational, particularly for small suppliers, Gurr explains. "If you take someone like [chocolate confectionery specialist] Lavinia Davolio, she started out selling purely online, through the Marketplace, and is now exporting all over the world. But she has now got to the point where she's opened up a physical store in Parsons Green in London. She's a good example of how we can take a single producer and create a global marketplace for their goods."
Amazon Fresh
Closer to home, Marketplace is also transforming Amazon's UK grocery offer. With 250 million ambient SKUs on the UK site, 50% of all the units shipped in the UK, and over half the inventory in its 16 FCs involve third party sales. And as Amazon Fresh sales in 2017 have grown (up 56% to £150m, according to One Click Retail estimates), the number of grocery items has increased from 130,000 to 180,000, with Morrisons supplying a core range through a wholesale agreement, but the vast majority involving third-party sellers, including bakery Gail's, butcher Lidgate, and various Borough Market suppliers in London.

The latest is Booths, offering "fabulous products that unless you lived in Cumbria and certain parts of Yorkshire and Lancashire, were previously very hard to access. And then there are other services. With Morrisons for example, over and above the product we directly source, we've also started servicing a few Morrisons stores, so you can shop from the Morrisons app and we'll ship it out." The other key development has been incorporating Whole Foods Market into its operations following its acquisition of the upmarket US chain last summer. Though there are only a handful of UK stores (and the ones outside London have recently closed), it "was an opportunity to improve the experience on both sides of the business".

"So we've done a few basic things. We've taken the price down on a few staples. We've put lockers in those stores. You can buy Amazon devices there too. Equally, and this is pretty exciting, we're taking some of the incredible Whole Foods private label products they've got, and making that available through all our channels."

Gurr is also stepping up investment. "We are definitely putting money into customer experience around grocery. We have a bunch of experiments - and I use the term advisedly - like a Pantry service, which improves how I get my regulars, Ultra Fast, Prime Now and as you may have heard, Amazon Fresh."

The aim of the game, as with all innovation at Amazon, is fixing customer pain. "It starts with a customer pain point. Is there a customer need, is there a way you can take the shopping experience for a grocery product and improve it? How can you improve the customer experience?"

Amazon has just launched a virtual version of its Dash button, though there are no plans to open any checkout-free convenience stores in the UK any time soon, says Gurr. And he's not afraid of failure.

"Three weeks ago we launched virtual Dash buttons. We like to say it's Day One so we're trying a lot of things with no guarantee that they will work. But we have an absolute conviction that there are some real customer pain points we're trying to solve, and if we keep trying we'll come up with some that will work.

"Sometimes you invent technology and then try to find a need for it. That's not the way we work. We start with what is the customer need. We get it wrong more often than we get it right, but you only need to get it right a few times and it justifies a lot of experiments."

Gurr counts himself "very fortunate" that Amazon founder and CEO Jeff Bezos has made long-term thinking one of Amazon's operating principles. "In some cases that can be a real differentiator. Something as simple as what is the timeframe in which you evaluate investments. If you are willing to say what's going to optimise long-term free cashflow, that means you can invest in things that don't need immediate payback. And the big stuff tends to take a while."
Prices
As to how Amazon can offer such competitive prices (a recent Oliver Wyman report found prices on Fresh were up to 20% cheaper than at the big four), Gurr insists it is not simply 'investing' in price, or throwing away money (and food).

"It's not that complicated. First, we'll always ask the question, 'how do we get the very best price?' We try to reassure the customer we'll get them the best price. Second, we've always operated our business, to the extent that you can, on minimising the number of places that you have to hold product, which also enables us to hold a broader selection of product. The other point is: there is a role for technology. The science of predicting how much you buy and where you place inventory. For me those are great examples of how you really invent, how you hold as broad a selection as possible, while controlling costs and minimising waste. That's a rich area for use of technology and machine learning, sophisticated algorithm. It's not an amazingly cool problem to fix. It's not going to get you headlines, not perhaps even in The Grocer. But science is still science and it enables us to optimise, and you know, it's retail. Selection price and convenience are still the key. So we try to optimise around those."

Gurr's other area of major investment has been improving the value of Prime. "Some of that was ongoing and as we say it's very rare for customers to tell us 'I really like that product but could you have made it a bit more expensive and delivered it a bit more slowly?' So there's been a lot of investment in same-day delivery."

With delivery speeds improving all the time, has Amazon reached peak Prime? "I don't think we'll ever be satisfied that we've met the bar for customer experience. One of the beauties, the genuine joys of a customer-focused business, is it's never possible to be satisfied. Even services that we used to think were great, the bar raises. A speed that we used to consider good two or three years ago would just be considered lame now. What's great about Amazon is this constant push from the consumer to get it to me today, in two hours, so we don't set the speed."

"We could stop and say great, nothing to do here, everything's fine, let's go home; but actually that's not what we do here. We say what's next, what's new."

A culture of continuous improvement and operational excellence also means "saying to every single person who works here, 'whatever you did today, could we have done it better, quicker, cheaper?'".

With its remorseless focus on efficiency and optimisation, Amazon has sometimes given the impression that its people, particularly on the fulfilment side, are expendable (or perhaps inferior prototypes before Amazon figures out a way to get rid of them through AI and robotics). Gurr sees the clash between automation and people differently.

"You tend to get the best outcomes when you think about what are people really good at, and what are machines really good at. My role is about how we get the best combination. We've been opening up quite a few robotic fulfilment centres recently, particularly in the UK. It's interesting in terms of seeing and finding the right combination. And if you do it well, you get much better outcomes, and you will continue to create jobs and employment and hopefully better and more value-added jobs too."