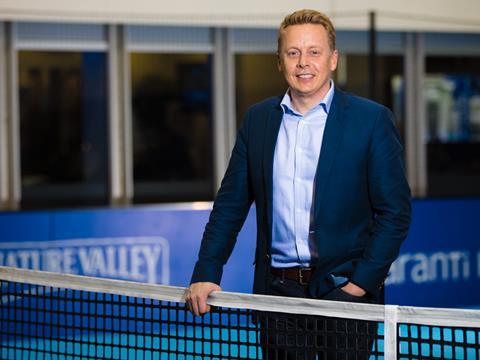 Ben Pearman is eating a Nature Valley bar for the camera. It is "genuinely tasty", he smiles, holding the bar up as if in an advert, hymning its many virtues from nut content to natural ingredients. It's hard to know if he's being entirely serious. And it's hard to square the cheesy commercialism with his Christian faith.

Pearman studied theology, an unusual preparation for a life in the cut-throat world of grocery, and as he's climbed the career ladder - moving through Nestlé's graduate trainee programme, to Unilever, Heinz, Birds Eye and finally General Mills, leading the Liberté and Yoplait brands in Canada before moving back to the UK eight months ago for his "dream job" running the business here in the UK, Ireland and Germany - Pearman has retained his faith. Has it ever been a problem?

"I do have a strong set of beliefs and values, but I don't see working in business as hostile to them at all," he says. "In fact, I think they're quite complementary. This is a values-driven organisation."
snapshot
Name: Ben Pearman
Age: 45
Family: Married with three children, aged 14, 12 and seven
Potted CV: Studied theology at Exeter before joining the Nestlé Rowntree graduate trainee scheme. Worked at Unilever, Heinz and Birds Eye Iglo before joining General Mills in 2010. Took up present role as northern Europe MD in April 2017
Business hero: My father
Business ethos: It starts and ends with people. You remember the people who had an impact on you and the people you managed
Best advice: My mum said 'do your best' and nobody can ask more
Favourite book: Ecclesiastes. It's pretty profound and it's a good way of grounding yourself
Favourite film: The Big Blue. It always makes me want to go and live in the Mediterranean
Favourite song: Losing My Religion by R.E.M
Death row meal: One of my wife's curries
As proof Pearman cites his passionate support for FareShare and The Grocer's Waste Not Want Not campaign, as well as a more recent pledge to fund more than 5,000 free school breakfasts in partnership with Greggs in October. "A breakfast club opened up near General Mills in Hayes, so we went along," he says. "When we sat down and talked to the kids about their background, something quite profound happened. You realised that, for some of them, just eating breakfast can have a big impact."

As a multinational General Mills has been a quiet operator on these shores, perhaps because many of its leading brands, from Betty Crocker to Green Giant and Old El Paso, lack excitement. Pearman rejects that though. "One of the narratives I hear is that big food companies are low growth and boring, that the smaller brands, the start-ups and the artisanal guys are where the action is," he says. "We reject that narrative."

It's another contradiction at the heart of Pearman's world view. "We're a mid-size food company. General Mills are outside the top 10 food companies, at least in the markets I'm responsible for, and that gives us the chance to play a different game and be disruptive. We have the growth orientation, the agility and opportunities of a smaller company while retaining all the capabilities of a global food company."
Multinational startup
Pearman calls this "a multinational start-up" model, a phrase he returns to again and again, as proof there's plenty more growth to be found. Growth it undoubtedly needs. General Mills' share price in the US has fallen from 62.68 cents last November to 53.72 cents in the same month this year. And the same pressure on the packaged goods market is playing out in the UK.

"Again, the narrative is that bigger food companies have to cut costs to generate shareholder value," he adds. "We say the growth is there. Managing costs is critical, but with innovation and excellent product there are ways to find it. Häagen-Dazs accounts for 6.5% of its category but drives 25% of category growth."

And so to Halo Top. The 'healthy' ice cream brand launched in the US in 2012 and after hitting $50m in sales in 2016 [Inc], now has 5% of the market, taking 1.5% share from Unilever brands alone. Has its UK launch, slated for January 2018, been giving Pearman sleepless nights? Apparently not.
"Managing costs is critical, but with innovation and excellent product there are ways to find growth"
"While we respect every competitor, Halo Top will not have an ingredient list as nice as ours," he says. "If you look at Häagen-Dazs, we have just five ingredients, while they have artificial sweeteners. And the premise to eating ice cream should be pleasure. I launched Magnum Light for Unilever and it was a complete failure. As someone said at the time, it was like buying a Lamborghini and driving it at 30mph."

This ethos reflects Pearman's time in Canada with Liberté, where he was appointed MD in 2013. "They were very entrepreneurial and created the Greek yoghurt section in the Canadian market, before launching into other segments. The thing I took from my time there was that entrepreneurial spirit and passion for food and for the products they made."

It also created what Pearman describes as "the Canadian playbook", whereby an old brand - Liberté is an agglomeration of companies that date back to 1936 - can drastically improve its market share through a robust and flexible approach.

General Mills has plenty of old brands into which it's breathing new life. Having launched in 1975, Nature Valley is the top-selling cereal bar in the UK for the second year running, a result of both marketing and innovation, with sales of its protein cereal bar variant now accounting for almost 25% of total sales. And Häagen-Dazs, launched in 1961, is now the second bestselling ice cream tub, with its handheld sticks having experienced dramatic growth since launching last year.

But there are exceptions. Frozen pastry brand Jus-Rol is sliding dramatically down the sales rankings for one, but Pearman has an answer. "I've started using the HelloFresh subscription service. We're sampling our Nature Valley bars with them and supply them with our Jus-Rol pastry. It shows we're thinking about emergent channels much more seriously."

As a Brit, working for an American company, with responsibility for operations in the UK, Ireland and Germany, is he not worried about Brexit? Pearman sees it all in context. "We were 150 years old in 2016, which makes us older than Coke. Each year since we were incorporated, we've paid a shareholder dividend and despite going through some tough times. We'd rather have stayed in the EU and we need a bit more clarity, but right now we're focusing on the practicalities and the things we can influence."

Things like the General Mills portfolio of brands and in particular, on this day, Nature Valley's sponsorship of the 2017 Nitto ATP finals, at the O2 in London this week. He finishes the bar and puts the wrapper in a nearby bin. "Very nice," he says, and smiles cheesily for the camera again.