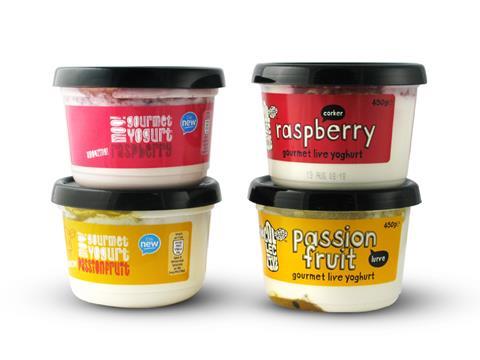 Aldi has delisted a yoghurt range that bore a striking resemblance to branding used by The Collective.
Pots of the discounter's Moo Gourmet Yoghurt started disappearing from shelves earlier this month, some 14 months after it launched fudge and passionfruit variants into stores.
Aldi declined to comment on the delisting. However, The Grocer understands the range's performance did not meet its expectations.
The discounter came under fire from Collective co-founder Amelia Harvey last August for launching the range, "taking cues from other brands" and "misleading the consumer into buying something it isn't".
Her comments followed a row between sausage brand Heck and the retailer last July, after owner Andrew Keeble accused it of "mimicking" its Chicken Italia sausages with a "copycat" version sold under the Ashfield Farm brand.
This led to a barrage of bad publicity for Aldi, and saw Keeble and Harvey talk to other brands that had expressed similar concerns, with Keeble urging consumers to "vote with their feet by not buying copycat brands".
Aldi redesigned the packaging on its chicken sausages in April, but stressed it was part of a wider redesign of the Ashfield Farm range, rather than a response to Heck's complaints.
Harvey said she was "pleased" Aldi had discontinued the Moo range. "We're all about healthy competition, but when consumers are confused by very similar brand cues of a range, it goes beyond this.
"During the past few months, we received multiple contacts from our customers pointing their confusion to us, so we're delighted that this will no longer be the case for them."