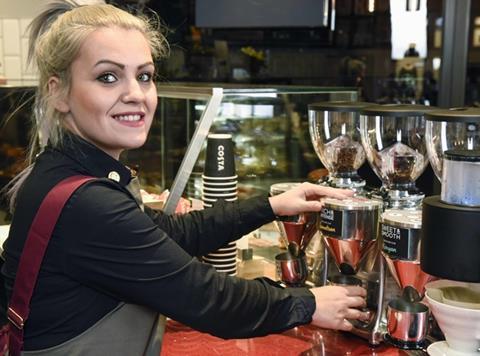 Negotiations are stalling, EU workers are leaving and retailers are in a constant state of uncertainty. More than a year after the Brexit vote, it seems there is little reason for businesses to feel positive.

Indeed, the BRC last week released a report painting a bleak picture for retailers. According to a survey of its members, which include everyone from Costa parent Whitbread to M&S, Brexit is triggering an exodus of valuable EU workers. More than half (56%) of retailers told the BRC their EU colleagues were anxious about their right to remain in UK, while 22% revealed that their EU staff had already left their employment as a result. No-one is likely to be more hit than the food-to-go industry, which relies heavily on EU workers. So just how worried should we about a gap in the food-to-go workforce, and what can we do?
Worker uncertainty
The BRC believes the situation requires urgent action for the sake of the entire retail industry. Chief executive Helen Dickinson warned the reduction in skills and workers could soon hit consumers. Referencing the BRC's findings, Dickinson took the opportunity to express her frustration at the uncertainty caused by Brexit. She called for a clear strategy to retain EU workers, including offering certainty around how to apply for settled status, an alternative to EU free movement, and encouragement of the apprenticeship system. "It is not right that 16 months after the referendum these people still don't have the security they need to continue their lives. And from our data it is clear that unless we have the right structures in place to support retailers to attract, recruit and retain workers, consumers will soon start to see and feel an impact as they shop," she added.
EU worker crisis in numbers
6% of retail workforce comes from the EU
56% of retailers say EU employees are anxious about right to work
39% say some EU employees are considering leaving the UK
22% have seen EU staff leave their employment
Source: BRC A Fair Brexit for Consumers report
If EU workers leave, Britain has little in the way of a backup plan. On Friday, the BHA slammed the government's delay in introducing technical qualifications in England, which were designed to come into force in 2018 to encourage more young people to enter the hospitality industry. Instead, the qualifications will start in September 2022, a year and a half after the expected end to free movement.

BHA chief executive Ufi Ibrahim conveyed her "dismay" in a letter to the immigration and education ministers. "We are not in a position to fill these vacancies without hiring non-UK workers," she said. "This is due to the fact that the UK is currently at near-full employment and because the educational system does not encourage young people to consider a career in hospitality," said Ibrahim.

"If migratory flows for workers from the EU and beyond are severely curtailed, particularly non-highly skilled routes, the hospitality industry will be forced to contract, costing jobs and economic growth. Automation is not a viable alternative in our sector."
Food-to-go fightback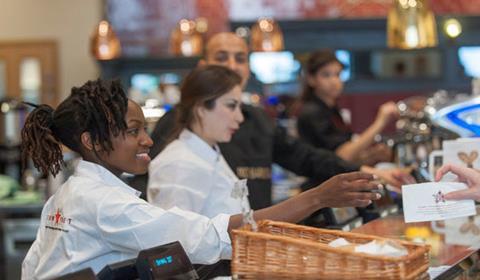 Caffè Nero business development Director Paul Ettinger seconded Ibrahim's concerns about the end to free movement at food-to-go conference Lunch in September.

"If parliament passes that law, that is going to make it very, very hard for us to operate, certainly to operate in the way we've been operating in the last few years with the constant flow that we need," he said. "If you stop that happening that is going to have a very, very serious impact on the whole of the hospitality industry."

However, these government policies are largely outside the control of the industry. In preparation for the worst case scenario, many members of the high street are taking matters into their own hands.

At the Lunch conference, Eat CEO Andrew Walker said he was keen to recruit and retain an upcoming UK workforce. He admitted it was a challenge as "millennials are a little bit flightier". But Walker is looking to tackle perceptions of hospitality being a dead end in career terms.

"What we're trying to do is to build a career path for them, so when they come in on day one you sort of say here's where you can be in two years."

Pret A Manger is being similarly proactive. The food-to-go chain launched a work experience scheme in March to tackle its lack of British workers, who only accounted for one in 50 of its job applicants.

By offering 500 one-week work placements for British 16 to 18-year-olds, it hoped to drive higher consideration among young people. It also pledged to double the intake of its school leavers programme and work alongside Jobcentreplus.

Meanwhile, Costa is taking advantage of the government's drive to train more apprentices, made clear by the introduction of the Apprenticeship Levy in May. In September, the coffee chain announced plans to hire at least 250 apprentices by the year's end. The apprenticeship scheme offers participants the national living wage while they work to gain nationally recognised qualifications in customer service, communication skills and wider business management. All of which could make the industry more attractive to home-grown talent.

The message is clear: the high street can no longer rely on EU workers. And as EU negotiations are out of our hands, businesses will have to be more proactive in their recruitment, or face a shortfall in numbers and skills.