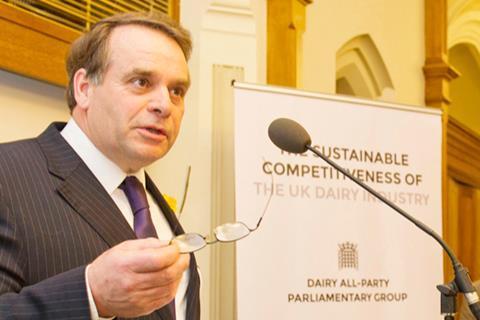 MPs are to launch an inquiry into the food supply chain's workforce, following the government's announcement of its plan for a post-Brexit immigration system.
Members of the cross-party Efra Committee will scrutinise the impact of the proposed system on the sector and will assess the feasibility of the government's plans to compensate for the anticipated shortfall of foreign workers through investment in UK skills.
The inquiry is also set to look into the Seasonal Agricultural Workers Scheme pilot's performance and whether its expansion to 10,000 workers, announced alongside the new immigration system last month, will meet the needs of growers.
"British agriculture and food processing rely heavily on access to labour from non-UK nationals," said Efra Committee chair Neil Parish. "If farmers can't employ the right seasonal workers, crops and flowers will be left to rot in fields."
Parish, the Conservative MP for Tiverton and Honiton, added his Committee would explore the impact of the new system, "particularly as some roles would be very challenging to replace with technology and automation".
Last month's announcement of the points-based immigration system was met with derision by food and drink bosses, who said the proposals "fundamentally misunderstood" the nature of the industry's workforce.
The government's plan to scrap the route into the country for so-called 'low-skilled' workers is projected to also raise costs for the food sector, with research by the British Poultry Council showing its members were likely to spend at least £15m more on labour by the end of 2020.
In the growing sector, concerns have been raised about the likelihood of the new laws damaging businesses and exacerbating the problem of modern slavery.
It follows a worrying end to 2019 for many businesses in the sector, with seasonal migrant labour shortages meaning thousands of tonnes of crops were left to rot in fields.