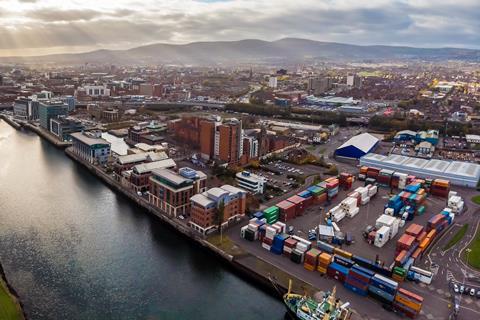 Divorces are never easy, and they're particularly hard on the children. That is the case for food suppliers, hauliers, retailers and foodservice businesses supplying post-Protocol Northern Ireland. We don't want to be argued over, we don't want to be forced to take sides. Unfortunately, the reality of 'Brexit-not-done Britain' is that we can't help but be dragged in.
As with all escalating rows, there is tendency to exaggerate to make a point. The economy is not on the brink of collapse in Northern Ireland – the current uneasy status quo just about works in keeping goods on the shelf. Also, for Northern Ireland-based food producers, retailers and logistics businesses that buy, sell or move goods on the island of Ireland (only), supply the GB mainland or export to the EU, things are, relatively speaking, pretty good.
There is a major problem, though. This relates specifically to how goods move from the GB mainland to Northern Ireland. On that, the current 'fudge' is not sustainable. We have a half-implemented Protocol, applied through unilaterally imposed easements, that discriminates against small businesses and causes uncertainty and disruption. It is also hideously expensive. Expensive for businesses, consumers and for taxpayers, who are still paying millions for the processing of thousands of 'customs' declarations every month to keep goods moving under the Trader Support Service.
This problem needs a carefully calibrated solution. Last week the UK government formally proposed one, the so-called 'green lane' for goods arriving from GB for the purposes of sale to Northern Ireland consumers.
It's the right idea, with potential to remove 90% of the practical, everyday issues that arise from having a border in the Irish Sea. Specifically it resolves the conundrum of how to treat a refrigerated lorry carrying the overnight orders that replenish a Belfast supermarket, convenience store, cash & carry or café. This type of supply chain would collapse if the Protocol was ever applied in full, because in that case every different SKU on a delivery lorry would have to be separately declared, potentially vet inspected, and risk being held up at the port.
It's not perfect – at its core 'green lane' is an honesty system, the same as when a tourist walks through the green channel after baggage claim. But it's not an open door, either. The model proposed would come with controls. All traders would be registered, and therefore traceable, and because commercial data would be routinely shared with authorities it could be monitored for unusual activity.
Approached in the right way and with the right resources, this has the potential to be a better enforcement and deterrence model than people in tabards checking bits of paper at an inspection post. Our shared objective should be to catch and deter those who would deliberately and systematically break the rules, not to impose an unmanageable burden on those that have no intention, motivation or wherewithal to do so.
Green lane is the prize. That is why it is such a shame that the latest UK government proposals are so confrontational, and include so many other things that are provocative to the EU, such as dual regulation systems and the role of the European courts. By doing so, I fear ministers have pushed agreement further away.
Green lane is not simple, nor is it perfect, but it is practical and pragmatic. It addresses a real problem, not a symbolic one. It is also what a mature post-Brexit relationship with our neighbours should look like and, above all, it would allow the food industry to get on with the job.