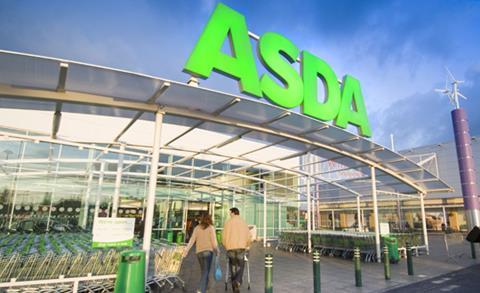 Asda CEO Roger Burnley has vowed not to withdraw the retailer from Northern Ireland amid speculation that a new regulatory border in the Irish Sea could force some supermarkets to exit the region.
Asda sends around 200 lorries each week from Great Britain to its 16 stores in Northern Ireland, each often containing thousands of different product lines. But from 1 January, all products may be forced to comply with new checks including veterinary certificates and EU labelling requirements.
Compliance with the new checks is expected to add thousands of pounds to the cost of each lorry load, and could, according to the Northern Ireland Retail Consortium, make the existing business model of some retailers unviable.
Burnley said the issue was a "big stumbling block" during a speech at the Northern Ireland Food and Drink Association's (NIFDA) annual dinner earlier this month, but when asked if Asda would ever consider withdrawing from the region if there was not frictionless trade with GB, he replied: "We wouldn't even contemplate that. At this point we're hell-bent on finding a solution."
Asda, like all major retailers, is counting on 'the supermarket solution' to ease the regulatory burden, a trusted trader scheme designed to allow supermarkets to waive or streamline checks when moving goods from Great Britain into Northern Ireland.
The plans are under discussion at the EU-UK Joint Committee, though they reportedly hit a snag after the UK revealed its internal market bill to override key aspects of the Northern Ireland protocol last month. The scheme has also worried other parts of the industry, who fear it will reduce competitiveness by making supermarkets the only viable option for businesses wanting to supply the region.
If introduced, the scheme will waive the checks for supermarket goods intended to remain in Northern Ireland. Although there are still question marks over how it would guarantee that some products would not eventually cross the border, Burnley believes it should be "eminently feasible" for Asda, given it has no stores in the Republic.
Yet while Asda's lack of presence south of the border could be beneficial under a trusted trader scheme, it could prove troublesome without one. Unlike some supermarkets who have stores and warehouses in the Republic, Asda would not have the option to supply its Northern Irish stores from regional warehouses if border checks become too burdensome.
"If you've got a store that only has an NI presence, that certainly makes it more difficult. There probably are less options," Seamus Leheny, Northern Ireland policy manager at the Logistics UK, previously told the Grocer.
Labelling is the other "key thing that we're lobbying heavily on," Burnley explained to the NIFDA dinner. All products on sale in Northern Ireland from next year will be required to conform with EU regulations, therefore requiring Asda to change the labelling on the 19,000 products currently on sale in Northern Ireland. It is a task, he said, that is now "literally impossible to do in time".
The food industry set the government a deadline of the end of August earlier in the year to provide clarity on exactly what the labelling requirements would be. However now this has passed, there is insufficient time left to switch all the new labels in time for 1 January.
Food and drink imports from the EU into Great Britain are also a concern. While Asda is now "prepared full stop, whatever the outcome," said Burnley, the supermarket will move supply chains away from Calais-Dover where possible, and around to other ports, to try and avoid the worst of the disruption.
"If our supplier's lorry is five back at Calais behind four that aren't prepared, that is still a delay."